Lessons learned at the 26th IAKS Congress on day 4: Everybody wants to connect with a youthful and hip audience in at urban sports facilities and to create inspiring urban landscapes for sport and physical activity. If done with consideration and creativity, urban sports environments can create landmarks for both the local population as well asand visitors. This was the conclusion of a keynote session on 'Diverse and successful activity areas' moderated by Danish journalist and former head of the Danish Institute for Sports Studies, Henrik H. Brandt.
Indoor and outdoor skate parks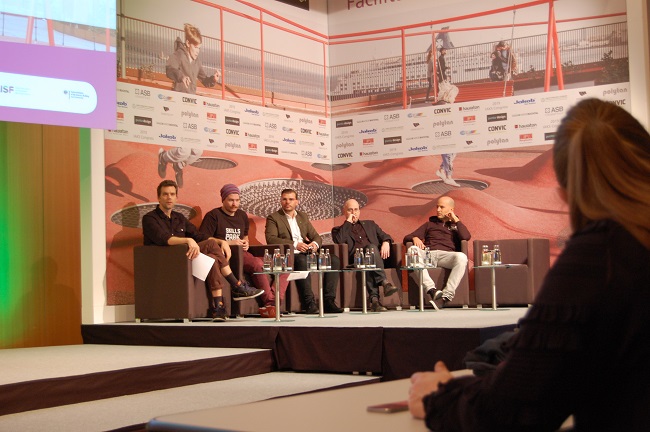 Former professional skateboarder and present partner with at Landskate, Veith Kilberth, gave examples from his academic research into understanding the skateboard culture and transferring this understanding to the proper appropriate design of skate facilities. There is a fine line between connecting with the skater society community andor disconnecting due to design which that does not sufficiently take the needs and desires of the local skateboard communities into account.
Robin Schneider gave inspiring examples of SkillsPark Winterthur and the need to exactly connect precisely with the urban sports and having flexibility in design and approach to the various user groups in order to run a successful and commercially viable urban sports facility. Along the same lines, Bryce Hinton, partner with at Convic, Australia, gave a range of visually inspiring examples of how successful urban sports architectural design can attract a wide range of users from all generations to various Australian cities.
HCMA Canada Managing Principal Darryl Condon whetted the appetite for the upcoming IAKS study trip to Vancouver in 2020 , by presenting inspirational examples of previously underutiliszed laneways in the Canadian city, which had undergone low-cost transformation with the creative use of colours and other urban design features as part of the partnership programme 'More Awesome Now'. A laneway with a music theme and another laneway with an urban sports theme have now become popular local hubs and tourist landmarks in the Canadian city. The daily use by local residents of the previously deserted and insecure laneways has increased significantly.
New tasks for the schoolyard
Can cities and municipalities nowadays still afford to close the gates of the schoolyard at the end of lessons, leaving a space for play and exercise unused? And how can schoolyards be designed in such a way that school children are encouraged to take an active break? Discussion was stimulated by the workshop "From schoolyard to activity zone for all".
The Danish foundation Realdania has dedicated itself to such issues as inclusion, social relations and inner-city living. In the development of public spaces, the concept of the schoolyard is being reinterpreted. Project manager Laura Munch presented practical examples where children spend time in the schoolyard after school and at weekends. This means health, quality of life and the creation of an appropriate environment with a motivational character for all – including local residents.
Many readers of "sb" 4/2019 are familiar with the Wonder Wood activity zone consisting of schoolyard and woodland, and now company owner Anne Dorthe Vestergaard of Vega – landskab has presented this successful combination to interested 26th IAKS Congress participants. With the active involvement of teachers and students, an exercise zone has been created that also extends to local residents. The woodland is not just a passive space but an active part of school life. The aim is to appeal in particular to "couch potatoes" and children who are socially disadvantaged or addicted to mobile phones. "Inclusive" furniture has been purchased for this purpose. In addition to opportunities for encounter and exercise, the project has created places to enable group work and outdoor lessons. Residents use the school facilities, creating an "interaction loop".
Activating the public realm for all ages
The objective of creating active communities for all ages goes well beyond indoor and outdoor spaces for sports facilities and leisure programmes. It rather means providing opportunities for spontaneous and leisure activity in the public realm. 
Urban Planner Matthew Lappin from the UK explained his ideas and approach to active design and its impact on health. He showed how cities can react on to changing trends in activity and how they can encourage people to be active and live more healthy lives.
From Denmark, Theis Hansen showed the wonderful project of Faaborg City Harbour Bath, which has activated unused and dead urban space. At the harbour, all ages can find individual multifunctional and activating space in during all seasons of the year. Participation was an important tool leading to success. The workshop participants also discussed the issues of safety and comfort in a place like the Danish harbour.