Click on picture to download full agenda or scroll down for timetable
Tuesday, 24 October 2023: Global challenges and global initiatives
Wednesday, 25 October 2023: Environmental and climate challenges
Thursday, 26 October 2023: Well-being, active living, inclusivity, and the public realm
Friday, 27 October 2023: Synthetic turf surfaces: Benefits and challenges
Changing the Narrative: The Future of the Sports Surfaces Sector
Moderator: Claus Weberstorfer, Neveon, Austria
Changing the narrative
Martin Sheppard, Smart Connection Consultancy, Australia
The environmental challenges facing the sector
Alastair Cox, ESTC, United Kingdom
The circular economy strategy
Stefan Diderich, ESTC, Belgium
Future-proof sports pitches
Bjørn Aas, COWI, Norway
Discussing the positive aspects of synthetic sports surfaces is the way for the future. Embracing the negative energy from a small number of interest groups can be changed into positive solutions that can make a difference to the next generation of users, in a safe and environmentally positive manner.
The panel will explore this new industry initiative between IAKS, ESTC (EMEA), STC (America's) and NSC (Asia Pacific), where the four organisations aim to develop a common approach to Changing the Narrative so that the industry can continue good practice globally to counter some of the challenges.
Building resilient communities through sports and leisure facilities
This year's IAKS Congress will focus on "Building resilient communities through sport and leisure facilities". From 24 to 27 October 2023, the IAKS Congress, in its 28th edition already, will be the most important international forum for planning, construction, financing and management of sports and leisure facilities for experts in sports facility construction from all over the world.
On the four days of the congress, the IAKS will invite international speakers from science, sport and architecture. They will discuss the challenges and opportunities that move clients, local authorities, technical and operational management, architects, designers and engineers all the way to sports federations and clubs.
In exciting lectures, panel discussions and workshops, international experts will provide innovative thinking to pressing questions (see programme outline below).
Congress registration has opened and offers attractive early bird tickets starting at 65 EUR.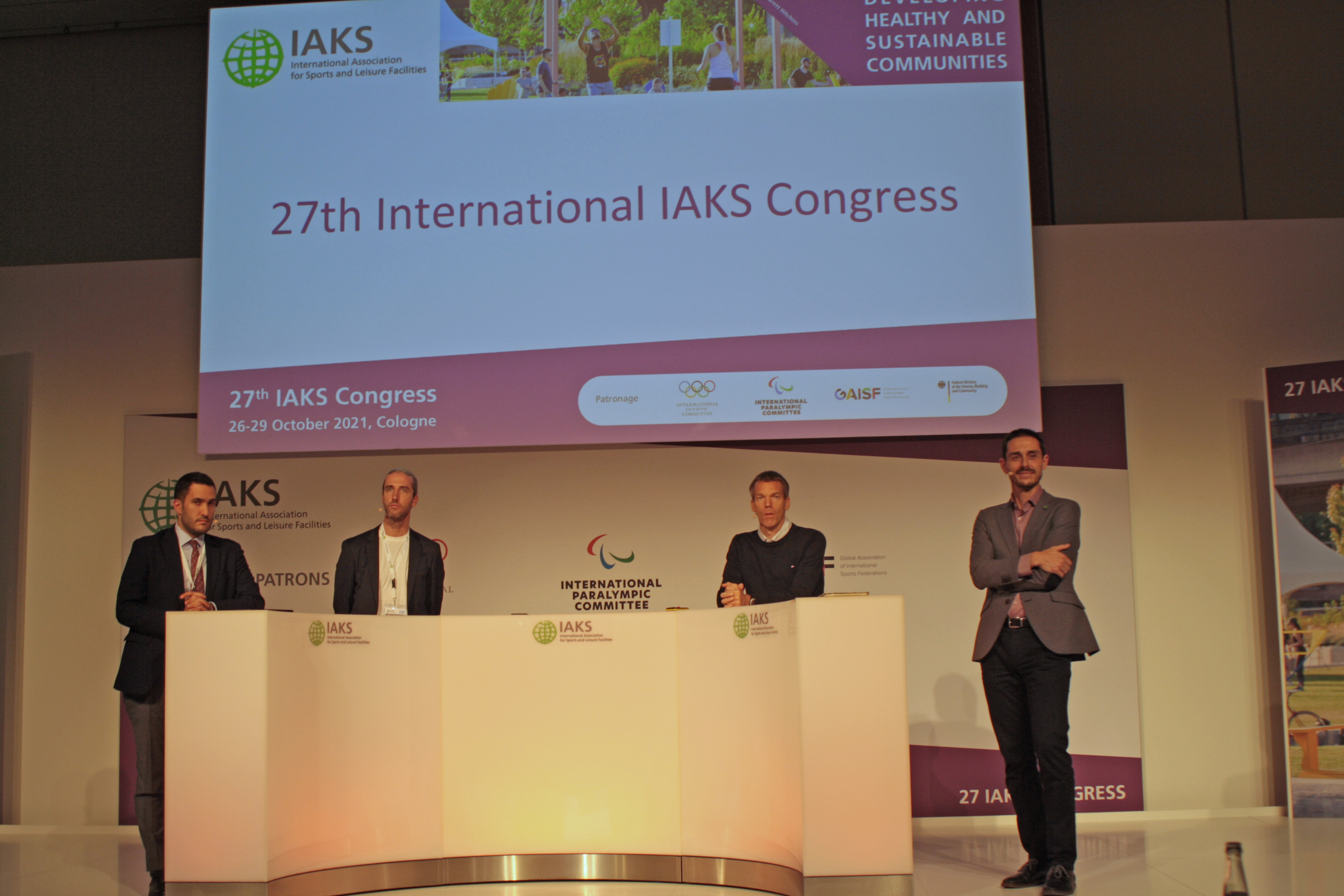 Your place to be from 24-27 Oct 2023: Cologne, Germany
The International Trade Fair for Public Space, Sports and Leisure Facilities (FSB) will be held in Halls 9, 10.1 and 10.2 of the Cologne Exhibition Centre at the same time as the 28th IAKS Congress. FSB as the industry's leading international platform covers every- thing relating to public spaces, playground equipment, outdoor fitness, sports equipment, sports flooring and stadium infrastructure.
Not to miss: The award presentation ceremony for this year's IOC IPC IAKS Architecture Prizes will also generate exciting stimuli. The gala will take place on 24 October and celebrate the most innovative ideas of our industry and their creators.
hide: No