How Austria and Vienna in particular might develop into a hotspot for modern sports facility construction in the coming years was explained by a top-flight panel of national and international speakers to over 130 interested participants at the "Allroundplayer Sportstätte" symposium on 25 April 2019, which was the official kick-off event marking the founding of the IAKS Austria.
Presentations are available for download. Please contact the IAKS office for the download code.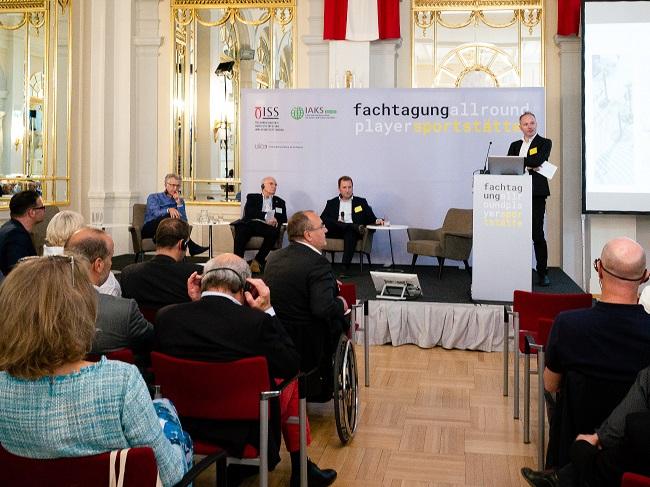 At the end of April 2019, high-calibre speakers at the Haus des Sports reported on international developments in the field of sports and sports facility construction. The cooperation event of the International Association for Sports and Leisure Facilities (IAKS) and the Austrian Institute for School and Sports Facility Construction (ÖISS) took place on the occasion of the founding of the IAKS Austria and marked the kick-off of the redoubled efforts of Austrian industry to achieve internationality.
The hosts IAKS Austria under architect Harald Fux and the ÖISS brought together celebrated experts to present an overview of the broad spectrum of sports facilities – from (public) mass sports facilities to top-level competition facilities as important features of residential areas and as key elements urban planning.
The clear credo for Austria's future is to restructure sports infrastructure in tandem with the creation of residential space as an urban development challenge, said Fux. There is already big demand for school sports facilities and multifunctional event venues in the Austrian sports sector. To respond to such trends and developments, it is necessary to attract municipal clients, operators, colleges and universities as members and thus promote and foster an exchange of experience and expertise on the national level.
The founding of IAKS Austria marks the creation of another national organisation of IAKS international, which, as the world's largest non-profit organisation devoted to the planning, design and management of sports and leisure facilities, has members and cooperation partners in 153 countries. The focus of all national sections is, among other things, on improving national networking by bringing together various market participants. A first, highly successful step in this direction was made in Austria with its "Allroundplayer Sportstätte" symposium.
Tom Jones, architect in charge of the planning of such international sports facilities as the Tottenham Hotspur Stadium and the O2 Arena in London, gave some examples of how large-scale sports and entertainment facilities can act as catalysts for urban renewal.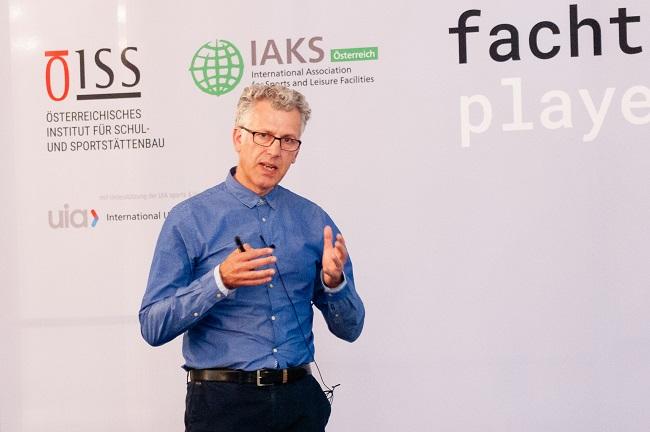 Michael Hall, architect of the Derby Arena, also sees this potential as capable of giving cities a tremendous boost: "We recognise the increasing trend towards bolstering sports centres with other facilities and functions such as libraries, schools and adult education facilities."
As a successful example he cited Hebburn Central Library, which is combined with a swimming pool and a sports hall, and the Beacon of Light sports and educational institution in the United Kingdom.
"To make cities really worth living in and to promote health awareness more strongly, we need places where people can meet and be active," said Esben Danielsen, CEO of the Danish Foundation for Culture and Sports Facilities, in his speech. He called for new leisure facilities to be integrated into the existing urban fabric in a more directed, innovative and creative way.
The Austrian contribution to the event was made by Thomas Madreiter, Planning Director of the City of Vienna, and Thomas Waldner, Managing Director of "pro event", who reported on the Donauinsel (Danube Island) as an event location and sports venue for Vienna. Vienna's Donauinsel has several functions – as an elementary part of the city's flood protection system, a valuable natural space and above all a place of recreation and sporting activity for the Viennese. Last but not least, Europe's largest open-air event takes place here every year with free admission. Hundreds of thousands of people make the trek to music events, sports events and cultural spectacles. Even today, the integrative planning process – the so-called "Viennese model" – is state of the art.
Further lectures by the sports event manager Diccon Loy; Professor Dr Robin Kähler from the Institute for Sports Sciences at the University of Kiel and President of IAKS Germany; and Professor Geraint John, former Chief Architect and Head of the Technical Unit for Sport at Sport England, rounded off the multifaceted symposium.
Supporters of the event