The webinar on 30 March, "Emerging from the Pandemic - Challenges and Opportunities for the Sports and Leisure Sector", focused on the challenges that the sports and leisure sector is facing as it emerges from the pandemic, along with new opportunities for it to play a part in the national recovery.
ukactive CEO Huw Edwards, Lee Valley Regional Park Authority CEO Shaun Dawson, and Executive Director of Sport at the University of Stirling Cathy Gallagher explored what this recovery might look like and how the sector can help to shape a new agenda for improving public health.
The event generated great interest from all over the world, from Brazil to India. It was organized and moderated by Populous Senior Principal Tom Jones and FaulknerBrowns Partner Mike Hall. If you have missed it, enjoy the full recording.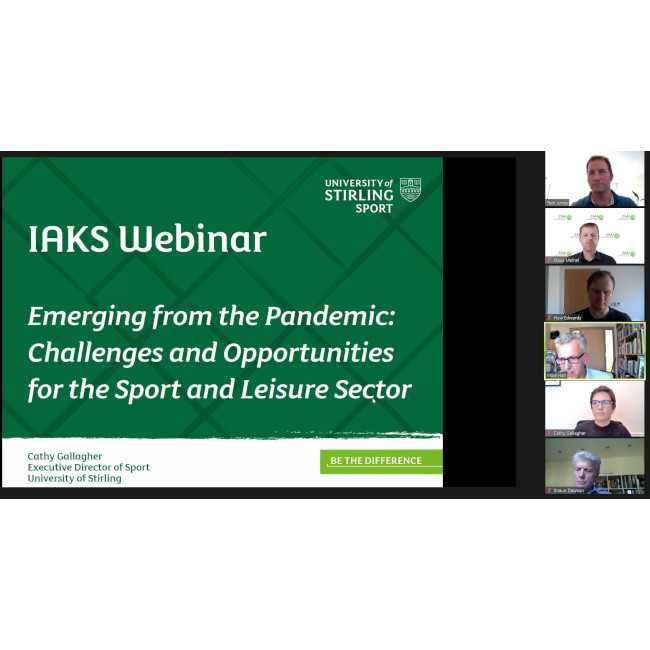 According to ukactive CEO Huw Edwards, the last twelve months have been about survival – now we need to explore what recovery may look like. About 25 to 30 % of the facilities did not reopen after the first lockdown. The current crisis shows the importance of health. There is a need to look on how to improve public health. With the data collected from the previous lockdown, Huw advocates to lobbying on the Government for sports and leisure facilities to stay open. He presented the "Fit Together – campaign" by ukactive.
Shaun Dawson, CEO of Lee Valley Regional Park Authority, said that need has never been greater, resources never been less. He observed that there is a shortfall in funding: the sport & leisure section is seen as discretionary spending. Fresh thinking is needed around the development and delivery of sports & leisure / community facilities. He suggests to shift from direct provision, to 3rd party outsourcing, to private sector. He advocates for greater collaboration with regards to existing public assets to ensure maximum community benefits, e.g. schools and universities. Shaun sees opportunities in shifting from the public sector to the private sector provision, e.g. transfer of local authority assets along with risk and liability to commercial developers and operators.
Cathy Gallagher (Executive Director of Sport at the University of Stirling; and Chair of BUCS Senior Managers Network) concured with Shaun's suggestion in respect of collaboration.  In order to re-imagining the sector, she invited the panel to think differently and more importantly, do differently. She did not think this step-change is apparent just now as we all strive to emerge from the last year and plan to rebuild our delivery and impact.