Smiling faces among this year's winners of the international architecture awards for sports and leisure facilities. At the festive gala on 7 November 2017, the International Olympic Committee (IOC), the International Paralympic Committee (IPC) and the International Association for Sports and Leisure Facilities (IAKS) present the much-coveted medals for exemplary architecture.
Prize-winning projects in 12 countries
Composed of international personalities, the jury for the 2017 IOC IAKS Award is commending four facilities with Gold, seven with Silver and five with Bronze. The IPC IAKS Distinction for accessible sports facilities is going to six participants. The prize-winning projects can be found in 12 countries worldwide.
This year, 72 projects have been competing from all continents, including ones in Azerbaijan, India, Nigeria, Palestine and Singapore. Countries ranging from A for Australia to U for USA were all participating. This year's winners span the range of major international sports event venues in Singapore and Brazil, to small and socially meaningful skateparks in Palestine and Spain.
Two firms of architects are happy to be awarded prizes each for two projects. FaulknerBrowns from the United Kingdom are the creative minds behind the velodrome in Derby and the Sports Facility and Library in Hebburn Central.
Architects Vigliecca & Associados in São Paulo also succeeded with two projects. Three sports facilities for the 2016 Rio Olympics and Paralympics are among the winners: the Youth Arena (Vigliecca & Associados), the Deodoro Whitewater Stadium (Vigliecca & Associados together with Whitewater Parks International) and the Arena do Futuro (Lopes, Santos & Ferreira Gomes Arquitetos, Oficina de Arquitetos & Paulo Casé in collaboration with UK-based AndArchitects).
The six facilities receiving the IPC IAKS Distinction are located in Brazil, Canada, Denmark and the United Kingdom. The IOC IAKS Special prize goes to the SOS Children´s Village skatepark in Bethlehem designed by Betonlandschaften. Located in a volatile setting, it seeks to improve the confidence and sense of belonging among the children through sport and exercise.
High interest in the Architecture Award for Students and Young Professionals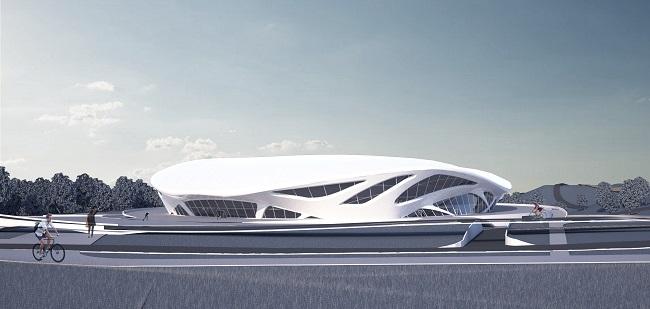 The IOC, IPC and IAKS are also presenting, for the fourth time, the Architecture and Design Award for Students and Young Professionals for innovative designs and strategies for sports and leisure facilities. The competition is targeted at young architects, landscape architects and designers who are still studying or in the first two years of their careers.
This prize has attracted over 30 young planners and designers from 14 countries. The designs and concepts come from all over the world, including China, Canada, Mexico and Russia. The 2017 IOC IPC IAKS Architecture and Design Award for Students and Young Professionals promotes concepts by architects and designers who have invested their enthusiasm and imagination in the creation of areas and spaces for active life-styles.
The jury is awarding the Gold medal to Russia. Both the Silver medal and the Bronze medal are being awarded to project teams from Italy.
hide: