Come in and have fun
published in sb 6/2018
Streetmekka is a new cultural destination offering a wide variety of facilities for self-organized sports like parkour, skate, bouldering, basketball, trial and a series of customized workshop areas for music production, DJ'ing, an animation studio, fabrication lab and various artist studios and wood- and metalworkshops. Architecture firm Effekt has transformed an abandoned windmill factory into a vibrant hub for street sports and youth culture.
Social spaces and informal meeting areas are distributed throughout the building and stra­tegically interwoven between primary functions based on the notion that proximity to activities lowers the threshold for participation.
Facts
Location
Viborg, Denmark
Client/Operator
Viborg Kommune and GAME
with financial support from Realdania,
Lokale- & Anlægsfonden,
TrygFonden and NordeaFonden
Architects
EFFEKT Arkitekter ApS
Blågårdsgade 8, 2. sal
DK-2200 København N
www.effekt.dk
Team
Tue Hesselberg Foged, Sinus Lynge,
Ulrik Mathiasson, Christoffer Gotfredsen,
Virginie Le Goffic, Yulia Kozlova,
Evgeny Markachev, Nicolai Duedahl Hendei
Project partners
BOGL, Rambøll, Thomas Andersen A/S
Consultants
Luke Jouppi, Lars Pedersen, Jonathan Linde, Copenhagen Bouldering, Nørlum
Authors
Mikkel Bøgh, Mette Marie Stahl Pedersen
Photos
Rasmus Hjortshøj – COAST Studio
Official opening
March 2018
Construction costs
DKR 23 million
(EUR 3.1 million)
Breathing new life into abandoned industrial buildings
The original building once served as a windmill factory and is a typical example of one of the many mass-produced warehouse or factory buildings from the late 1960s and 70s found in almost every suburban industrial zone in the western world. Constructed from prefabricated concrete panels or corrugated steel, these industrial leftovers are perceived as having little or negligible historic, cultural and architectural value.
Instead of taking the traditional approach and demolishing the leftover building, Effekt wanted to explore how to reuse and re-programme this type of insignificant and mostly introverted building typology in a qualitative way and with a very limited budget.  
With many vacated industrial sites being incorporated in urban expansion, this approach may be replicated and can pave the way for the revitalization of many other disregarded buildings left to deteriorate or facing demolition. New neighbourhoods can benefit from these industrial heritage markers to build identity and sense of place.
Individualized and self-organized alternatives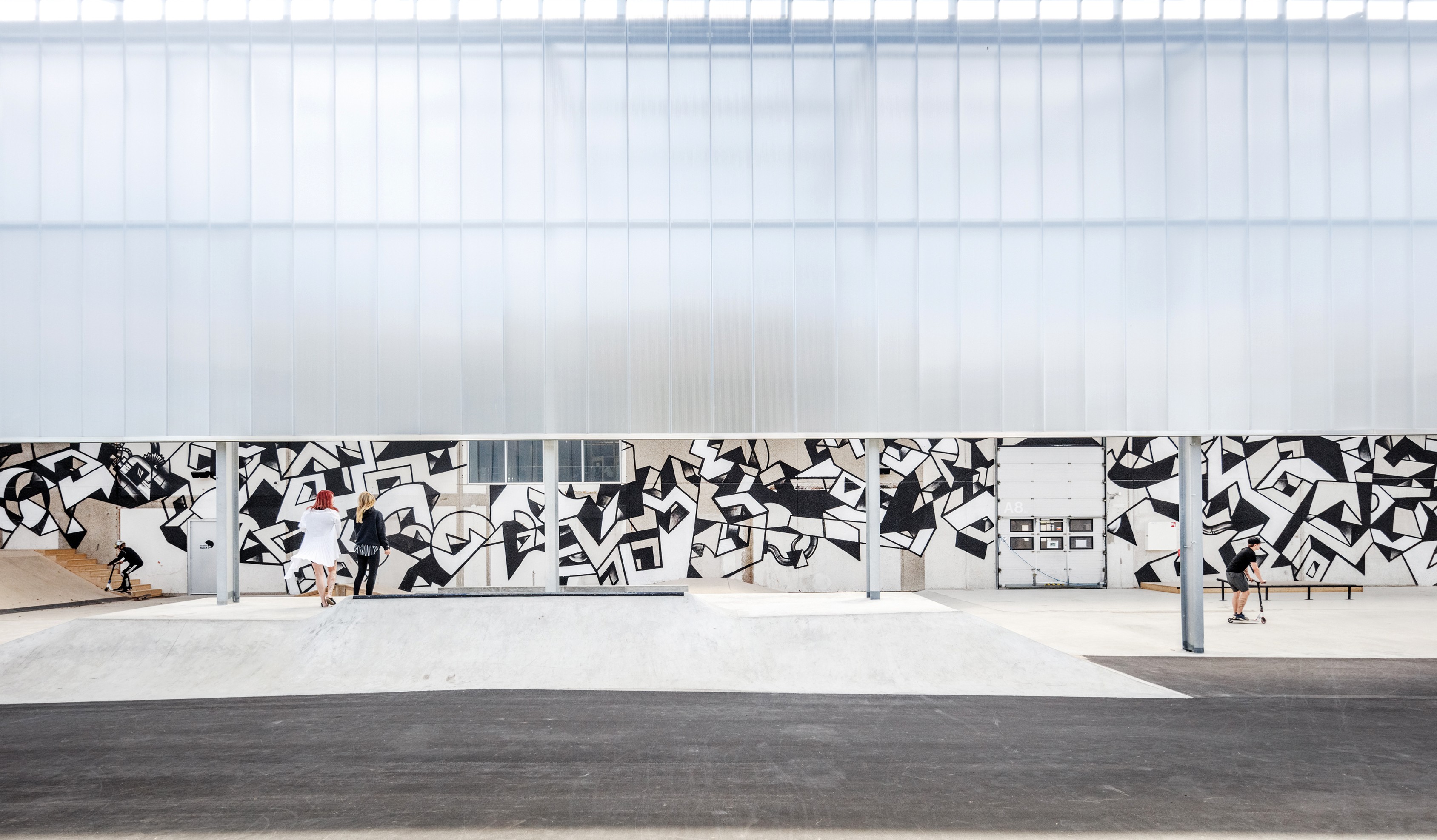 The functional goal of Streetmekka is to create a series of functional spaces for sports, cultural and social purposes arranged in a highly complex programmatic network. The aim is to meet the increasing demand for self-organized and individualized alternatives to established club sports and cultural activities.
The cultural centre is run by Game. The organization aims to attract local youth and create lasting social change through street sports and culture, enabling integration and empowering them in their future lives.
Growing new communities
New Streetmekka 2.0 is for everyone. It does not matter if you want to participate, create, hang out or watch – there is a designated space for everything and everyone. The idea of expanding the original programme to include so many different types of activity under the same roof is based on the notion that co-existence breeds new synergies and new social relations. Additionally, it exposes visitors to new types of activity they might never have realized existed, encouraging future engagement.
The maker labs and workshop areas enable users to continuously develop and reconfigure the facility. Streetmekka Viborg is not static in terms of programme or in physical appearance. It will continue to evolve with users – both short-term (due to the animated façades and street-art) as well as long-term (when new programmes are added and old ones removed).
Indoor streetscape
The architectural concept is based upon the idea of an indoor streetscape. The project opens the introverted industrial building and transforms the impressive central factory space into a new kind of interior space: a covered streetscape open to the outside. It measures 3,170 m². The streetscape concept is used to define and organize the various functions and place them in relation to specific requirements, such as spatial quality, daylight, materiality and temperature zones.
The new volume is then wrapped with a functional translucent polycarbonate skin, giving the appearance of a light and welcoming building while also serving as a giant canvas for local visual artists to display and project their art while also clearly differentiating the building from the surrounding industrial facilities. Streetmek­ka in Viborg is the first lot to be transformed in the new neighbourhood and will work as a catalyst for city life in the upcoming area.
Cost
The surrounding landscape stretches over 2,000 m² and becomes the natural extension of the indoor surface with various street sports and cultural functions placed in a recreational string of greenery connecting the site to the downtown area through a future pedestrian and bicycle path.
The preservation of the original structure and the reuse and upcycling of materials made it possible to carry out refurbishment at very low expense. Many of the original components were also repurposed as furniture elements for the parkour activities and hang-out spaces. The final cost of the building is approximately one third of that of a traditional sports hall. The project is funded with support from Realdania (a philanthropic association) and the Danish foundations Lokale- & Anlægsfonden, TrygFon­den and NordeaFonden.
Three Questions to the Architect Tue Foged
Which potential usage did you see in the abandoned windmill factory?
However uninteresting and grey the exterior of these boxes appear, they often contain an impressive interior space of magnificent scale and almost cathedral-like proportions based on a repetitive, neatly arranged structural system.
To us this vast space posed the only true value of the building – and we wanted to expose and highlight this to the outside world.
How did you go about reorganizing the building?
Our approach was simply to remove the walls at both ends of the building and to place all the administrative functions and workshop spaces on one side of the existing structure and the skate-areas on the other, leaving the internal former manufacturing space intact. This clear re-organization also equips the building with a completely new envelope and exterior and allows us to pull in more daylight through the two new glass façades while improving the connectivity to the exterior spaces and activities.
What is characteristic about the user groups?
Targeting a broad demographic audience from across a variety of cultural backgrounds, genders, ages and interests, our goal was to create an open and welcoming building, lowering the threshold for involvement and engagement. We achieved this by making a transparent building with a clear, well-defined organization intuitive to everyone.
An anti-elitist, pop-culture takes the form of a hybrid between a sports facility and a culture venue that is robust enough to stay open to the public 24 hours per day without supervision and where users are in charge and take the initiative.
Three Questions to the operator Mikkel Selmar
What is GAME's ambition?
GAME is an international Top 200 NGO with a mission to create lasting social change through youth-led street sports and culture. Our concepts combine young volunteers with innovative sport-for-all facilities to drive social impact. Our volunteer program and street sport facilities engage children and youth of various backgrounds in healthy and positive sport-for-all activities.
Our ambition is to open more innovative street sport facilities – with Beirut being the first location outside Denmark. It is a pioneering project that brings new life to worn out, abandoned or vacant industrial buildings by transforming them into a new vibrant culture house for street sports, culture and art with a social purpose.
Why is the emphasis on youth role models?
GAME's main focus is on youth leadership. We involve the local youth in the planning and design of GAME houses and when we train the GAME Playmakers to run fun street sport practices for kids and to work with concepts of individual, social and community empowerment. The strength of the program is Playmakers' learning to take control of their lives and environment and strengthen their participation in civil society. We have around 500 active Playmakers in Denmark, Lebanon, Somalia and Jordan, all of whom are volunteers. GAME operates so far in 50+ communities (GAME Zones) in Denmark, Lebanon, Jordan and Somalia, offering spaces for youth to meet in a safe and inclusive environment.
What is the importance of street sports?
Street sports play an important role in fragile neighbourhoods and societies in preventing conflicts and building a better and more stable future that bridges religious, social, cultural or geographical divides.
Our Playmakers volunteer in GAME Zones and GAME Houses. They serve a broad spectrum of the local population – economic differences disappear in the street basketball cage; headscarves are non-noteworthy on the street football court; gender is meaningless when youngsters help each other through parkour training; and the music of street dance drowns out accents.