Setting the stage for Facilitating an Active World and a great prelude to the IAKS NSC 2024 event
The 2023 National Sports & Physical Activity Convention (NSC23) held 26 – 28 July 2023 in Melbourne, Australia has once again proven to be the largest gathering of its kind having attracted passionate participants, exhibitors, speakers, and industry professionals from all corners of Australia and abroad.
The 2023 event witnessed an unprecedented surge in attendance, setting a remarkable record-breaking turnout of over 1,550 delegates leaving organisers, collaborators, speakers and attendees in awe of the industries collective dedication and commitment to knowledge sharing, collaboration and sustainable planning for the New Frontier.
IAKS involvement at NSC23 included site visits and bus tour, IAKS stand at the expo, Architect's Forum and networking event
NSC innovation tours
With four brilliantly planned innovation tours, NSC23 took over 145 delegates on a variety of site visits to explore industry specific facilities and operations. IAKS ANZ facilitated the largest innovation tour in the program with just over 40 people eager to embrace the new era of sustainable and functional design for community leisure centres.  Attendees were able to discover the cutting-edge approaches that are inspiring more people to stay active, have fun, and keep communities coming back for more.  Although the Community Leisure Facilities Design Innovation Tour sold out a couple of weeks before the event due to popular demand, it was wonderful to see so many IAKS members attending including those from Australia and New Zealand, Germany, Canada, Singapore and Spain.
IAKS ANZ Architect's Forum
IAKS ANZ made a prominent impact throughout NSC23, leaving its mark through various avenues. The Sports & Recreation Expo featured an impressive IAKS exhibit that acted as a meeting point for IAKS members from all over the world and attracted new expressions of interests from prospective members. 
Apart from the exhibit, the convention kicked off with the highly anticipated Architect's Forum, where renowned architects and designers from various disciplines including distinguished figures Al Baxter, Dion Gosling, Derek Mah, Darryl Condon, Klaus Meinel, and Jeremy Smith shared their insights on current trends, challenges, and opportunities in the sports and physical activity sector. Attendees were inspired by the cutting-edge designs that not only promote physical activity but also prioritise sustainability and accessibility for all which will undoubtedly influence the future of sport and facility design.
The Architect's Forum was a resounding highlight of the event that garnered exceptional popularity, with attendees from across the aquatic, sport, and leisure design sectors. The Forum was made possible by the generous sponsorship of the Swimming Pool & Spa Association (SPASA) and the dedicated moderation of CO-OP Studio, contributing to its resounding success.
IAKS ANZ networking event
The support of co-sponsors George Devenish from iDwala and Matthew Cohen from Trackmaster International enabled IAKS ANZ to host a remarkable networking function, drawing around 80 attendees. This event provided an invaluable platform for like-minded professionals to connect and explore potential collaborative ventures.
IAKS ANZ's steadfast commitment to knowledge dissemination, professional growth, research, and innovation has translated into remarkable results. The organisation's membership base has witnessed an impressive annual growth rate of approximately 30 % since 2019, a trend that is expected to persist in the coming months.
Save the date for 27 – 28 June 2024 IAKS and NSC combine event to go global
Building on the success of NSC23, we are thrilled to announce that IAKS is partnering with the National Sports & Physical Activity Convention to deliver a joint global convention with impact in 2024, focused on UNLEASHING INNOVATION – The Future of Sport and Recreation allowing attendees to embrace global thinking for a national agenda.
This upcoming convention will feature a global representation from over 20 countries with ground-breaking technologies, cutting-edge research, and visionary presentations from industry leaders, promising an unforgettable experience for all participants.
This joint approach will make the event even bigger, and an even more global event than ever before. The highly anticipated program is expected to offer practical insights into best practices, key challenges, opportunities, and strategies for fostering a more active and healthy community.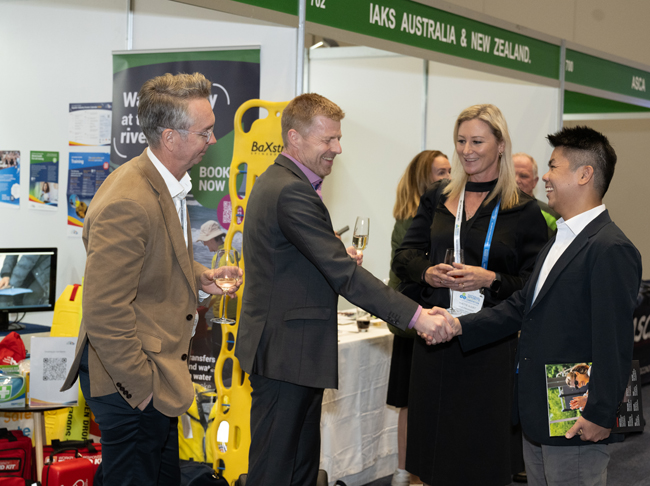 Networking will also continue to be a significant focus for IAKS and the NSC along with an even bigger Sports & Recreation Expo that will feature industry-leading brands, products, and services, catering to the largest gathering of sports, recreation, play, fitness, health, wellness, and government professionals seeking innovation and industry enhancement.