"The Box" and "The stairs"
published in sb magazine 1/2023
The growing demand for indoor climbing called for the expansion of the Las Eras Sports Center in Hoyo de Manzanares. The new space offers users many more opportunities to practise sports at municipally supported prices and will attract younger people to climbing from a very early age as an extracurricular activity. ENKIRO GROUP has also created spaces for other alternative sports practised in the region such as fencing, badminton and rhythmic gymnastics.
The new facility is organised in two elements, "The Box" and "The Stairs".
"The Box" is a freestanding volume with an industrial character divided into two different levels and finished with OSB. The room programme includes changing rooms and two multipurpose rooms. The larger one measures about 130 m² (with a length of over 12 m) and is used for fencing. On the first floor, a spinning room (100 m²) and a gym (300 m²) are located. The cafeteria is directly linked to the new urban outdoor space.
The main staircase serves as a connection between the old pavilion and the new extension and is attached to the solid concrete wall of the old fronton court. Some openings have been placed strategically to act as "interior windows", allowing for a direct visual link between the new and the old and thus uniting the whole volume. A large storage area under these stairs turns into new tiers towards the interior of the pavilion.
Semi-buried and peaking towards the end of the corridor is the climbing wall. Designed together with local climbers, it takes advantage of the old pavilion, using it as its main climbing support. The height of the space loses decreases towards the boulder, thanks to a series of triangular tensioned trusses until it reaches its original human scale.
Good to know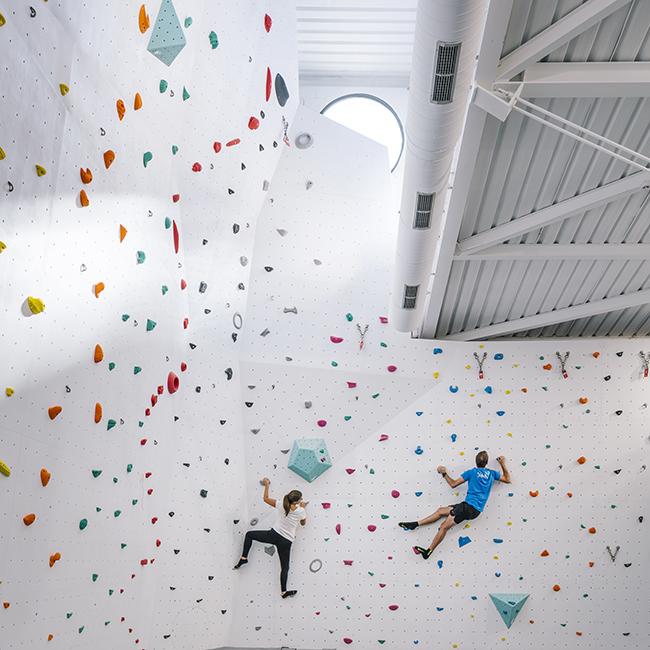 Location
Madrid, Spain
Client
City of Madrid
Architects
ENKIRO
ES – 28023 Madrid
www.enkirogroup.com
Author
ENKIRO
Photos
IMAGEN SUBLIMINAL 
(Miguel de Guzman + Rocío Romero)
Official opening
2021