Reutlingen ice arena opts for sustainable Glice rink
"I'm happy to invite my rink operator colleagues from all over to drop by and try it out," says Tilo Fritz, leaving no doubt about the enthusiasm for his synthetic Glice rink. The waterless zero-power surface from Switzerland opens up completely new opportunities for ice rink operators.
For 20 years, the former ice hockey player and sports director of TSG Reutlingen has been running his ice rink, but synthetic ice could never impress him – until he came across Swiss eco-ice by Glice. Alongside friend and ­hockey pro Silo Martinovic, Fritz tried out the HC Davos' rink, which is part of a Glice Hockey Elite Center that has revolutionized training methods for the national league champion. Fitz and Martinovic were sold right away.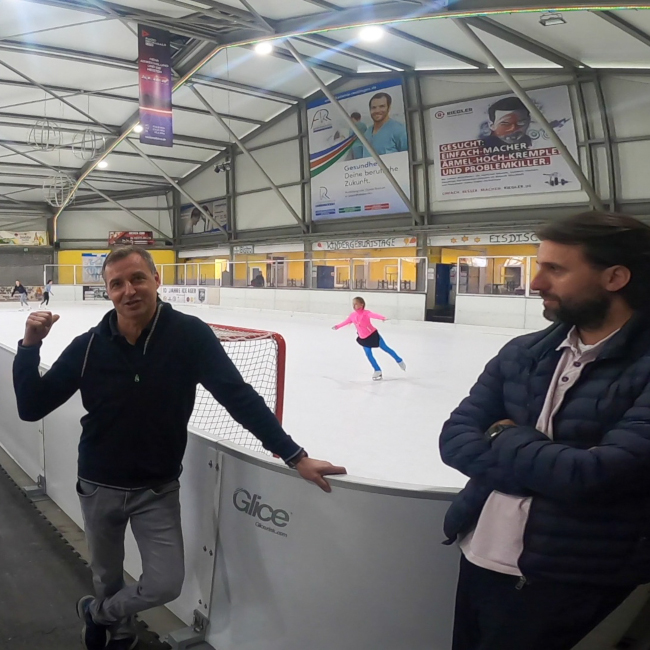 Product quality as a guarantee for success
Fritz saw such a potential for his arena in Reutlingen that he bought a 512 m² Glice rink despite the pandemic. The price tag and operating cost for the waterless alternative is much lower compared to a refrigerated rink: no energy bills and hardly any maintenance. In addition, a twelve-year warranty reassures Fritz that even as a commercial operator without subsidies, he is making a sound investment. Of course, product quality is essential for a successful operation. "If you buy cheap, you buy twice," jokes the Swabian. Other synthetic surfaces did not pass his tests: no gliding, dull blades and no customers. By contrast, Glice was developed by athletes for athletes and has made a name for itself as the premium synthetic ice, with over 2,000 installations in more than 90 countries worldwide. Even hockey equipment giant CCM tests its products on Glice, and NHL players like Nico Hischier and Roman Josi rely on its performance for their training at home.
Glice is also popular with municipalities: in 2019, the company delivered the world's largest eco-friendly skating rink to Mexico City, where the 4,000 m² surface attracted 250,000 visitors.
The end of ice scarcity
Fritz wants his Glice rink to provide athletes and recreational visitors with a year-round surface. In summer, the rink is the perfect addition to the bouncy castle during daytime; children's birthday parties and other ice-skating events are no longer just a winter activity. In the evenings, ice hockey teams, individual athletes and figure skaters can practice their skills. Suitable for ice hockey drills such as crossovers, shooting and passing as well as figure skating jumps and pirouettes, "it's of huge benefit for skaters," says Fritz.
In winter, the surface will be used as an outdoor rink for the public. "Outdoor ice rinks are dying out because they are too energy-intensive," says Fritz. He also has more surface area now to combat ice scarcity – a major concern for hockey clubs. Corporate curling events, which Fritz often had to cancel due to lack of capacity, can make use of an alternative area. And with a rink that can shift from indoor to outdoor any time, Fritz has become more flexible even in terms of COVID – because what is prohibited inside is often allowed outside. Fritz's forecast for the future of Glice ice: "very positive, much like artificial turf in soccer."