Colourful playscapes to stimulate interaction
published in sb 4/2020
Horseland is a public space project comprising a combination of landscape design and vari­ous outdoor elements in a single space, such as sports features, playground features for kids and leisure features for adults. 100 Architects is following up on its serial theme of "horses". The design of this vibrant and multifunctional public space resembles the abstract geometry of a horse when viewed from the air.
Inspired by the circular sketching strokes commonly used to draw animals' anatomy, the circle was used as the basic geometry to depict the different parts of the horse's body, as a design strategy to subdivide the space into ­multiple smaller functional pockets to convert the playground into a multifunctional space to be enjoyed by kids and adults alike.
Applying this idea to the spatial organisation strategy of the project, the idea was to create a multifunctional public space by combining and intersecting smaller independent portions of circles, using smaller circles for simple functions and larger circles for more elaborate ones.
Facts
Location
Chongqing, China
Client/operator
DongYuan Dichan Properties
Architect & Principal Designer
100 Architects (Shanghai) Co., Ltd.
CN – Shanghai
www.100architects.com
Author of project text
Marcial Jesús, Javier González,
Lara Broglio, Mónica Páez, Keith Gong
Author
100 Architects
Photos
DongYuan Dichan Properties
Official opening
Januar 2019
Construction costs
USD 375,000
(EUR 319,000)
An invitation to engage in outdoor fitness activities
Besides leisure spaces targeted at adults, such as seating and resting areas, the project also features a series of play pockets for the enjoyment of young users, such as a climbing surface, an amphitheatre hill and a mini basketball court. However, the most prominent and eye-catching feature is the largest circle, which consists of a circular elevated pipe, from which many sports-related features for outdoor fitness activities are suspended, and includes a fitness area to complete the functional program.
The horse is surrounded by circles of greenery to add a dash of nature to the proposal and complement the overall dotted landscape.
Custom-lighting features were designed specifically for this project, featuring branched posts with spherical bulbs matching the circular design language.
Colour scheme
The vast majority of the play and sports spaces are implemented with EPDM rubber in multiple vibrant colours to highlight the intersections of different circles. The remaining circulation space is surfaced with paving stone in shades of grey and contrasts sharply with the shape of the horse.
Playground "The Shower" in Shanghai
"The Shower" is a public space project that offers an alternative to the traditional concept of the plaza, catalysing social dynamics and activating urban spaces. 100 Architects was inspired by aspects of summer that could revitalise the plaza, such as the sea, splashing water, the summer breeze, surfing and summer lifestyle in general.
"The Shower" is a creative and eye-catching intervention on the central plaza of the busy Daning Road in the Jin'An district of Shanghai that brings pleasure and entertainment to children and families. It is a platform that encourages social interaction and quality time outdoors during the summer months.
To create the summer narrative, a multifunctional platform has been designed based on the iconic shape of waves. These find expression in undulating bands generating a series of spaces for playing, climbing and sliding, as well as for sitting and reclining while taking a break from the surrounding hubbub.
Facts
Location
Jin'An District, Shanghai, China
Client/operator
Life Hub @ Daning, (Chongbang Group)
Architect & Principal Designer
100 Architects (Shanghai) Co., Ltd.
CN – Shanghai
www.100architects.com
Design team
Marcial Jesús, Javier González,
Lara Broglio, Keith Gong,
Cosima Jiang, Ginger Huang
Author
100 Architects
Photos
Marcos Romano
Official opening
June 2020
Construction costs
USD 62,000
(EUR 53,000)
Enhancing the water narrative
A playful orange water pipe terminates in a huge shower head that seemingly sprays water onto the centre of the installation, giving the illusion of water running through the pipe.
As could not be otherwise, the installation's colour palette covers four different shades of marine blue, a very summery range of colours to better represent waves. The shades of blue contrast with the bright orange of the water pipe and the shower.
The multifunctional installation features an undulating amphitheatre directly facing the stage on the other side of the plaza, climbing ropes, a wide shared slide for several people to enjoy simultaneously, a surfing selfie spot, a pipe tunnel, and some floor graphics games for kids to interact with.
For those who cannot travel to seaside destinations during the hot summer in town, "The Shower" is sure to bring a fresh breeze and a sense of summer to urban Shanghai.
Three questions to the Architects
How would you describe your company profile?
Our practice focuses on the public realm and public spaces for leisure, recreation and entertainment in all their typologies and variations. We specialise in street architecture and urban interventions, and architectural objects both ephemeral and permanent, which encourage social dynamics and create human-scale landmarks.
What gave you the inspiration for your colourful playscapes?
We believe that nowadays it is not enough to simply have trees, a patch of greenery, a bench and nice lighting features in order to have a remarkable public space. Nowadays, young people want to gain experience, they are looking to invest in meaningful and memorable life experiences. Also children nowadays are not the same as before; they are exposed and used to different kinds of sensory stimulations.
Our projects have a striking and eye-catching composition that calls the user's attention, because that is the most effective way of stimulating them and encouraging social dynamics.
Our projects in public spaces seek to stimulate the user by providing colourful landscapes and intricate topographies that allow the user to interact in a much closer way with the objects and the space. With its appearance, morphology and impactful positioning, they invite users to jump, sit, lie, eat, watch, take photos, talk, hug, laugh, upload, run, play, enjoy, and relax. They are embedded with "instant functions".
Do you have a common theme, i.e. some elements which you like
to incorporate in many of your projects?
We design shapes such as a horse, because we believe that the imagination and surprise factor are necessary for a highly ­stimulating entertainment project. They boost the user's imagination and creativity, despite their age, while the surprise factor refers to the feeling of encountering completely unexpected spaces when walking through a city.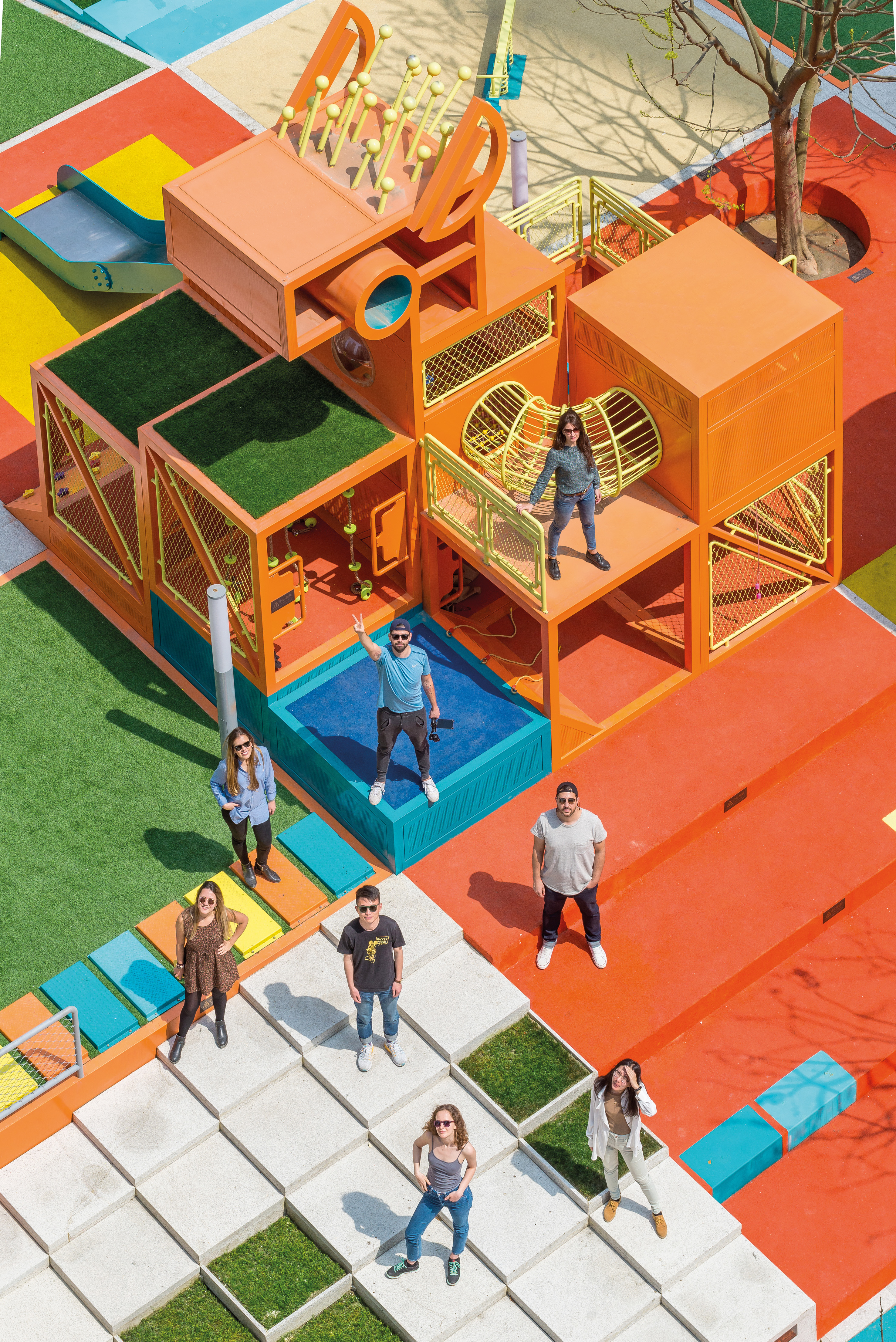 The focus of our work is to create urban attractions in public space, that – by attracting people – will produce new dynamics and opportunities. We are convinced that this is highly important in a world where technology, social media and online retail are replacing and eliminating our natural meeting places. We believe that our design should explore ways to stimulate human interactions in the urban space. Because at the end of the day, human connectivity is the kind of connectivity that triggers wellbeing and happiness, productivity and innovation.