Celebrating 40 years of family business and how it all began
Author: Miro Gronau, www.wiegandwaterrides.de
Tradition and innovation go hand in hand at Wiegand Waterrides GmbH. The family business relies on Germany as a production location and always surprises both playground and waterpark visitors with new slide experiences in an appealing design. Whether in polished stainless steel or individually designed by graffiti, equipped with LED lights and sound effects or acrylic see-through parts: sliding fun and thrills are guaranteed!
It all started with the construction of ski lifts in the neighbourhood; then Wiegand started all over Germany. In order to operate some of their erected lifts outside the winter season, the idea of the summer toboggan run came up. Wiegand is now the world market leader for these toboggan runs and AlpineCoasters with over 900 worldwide installed editions. With the know-how to build these toboggan troughts out of stainless steel, the idea also came up to manufacture other slides in their small company in the village of Rasdorf near Fulda. Wiegand is now represented on almost every playground. The slide manufacturer holds the Guinness World Record with the spectacular dry slide with a height difference of 80 m at the ArcelorMittal Orbit observation tower in London.
Stainless steel water slides
Wiegand produces the only deep-drawn water slides and thus developed the perfect surface without joints and without "bumpy curves". The family company - now in the second generation under the management of Hendrik Wiegand - is still loyal to Germany as a production location. Stainless steel doesn't just look elegant, but is very diverse, adaptable and durable. "Unfortunately, I cannot name the lifetime of one of our stainless-steel water slides - our oldest is only 40 years old," says Hendrik Wiegand with humor and not without pride.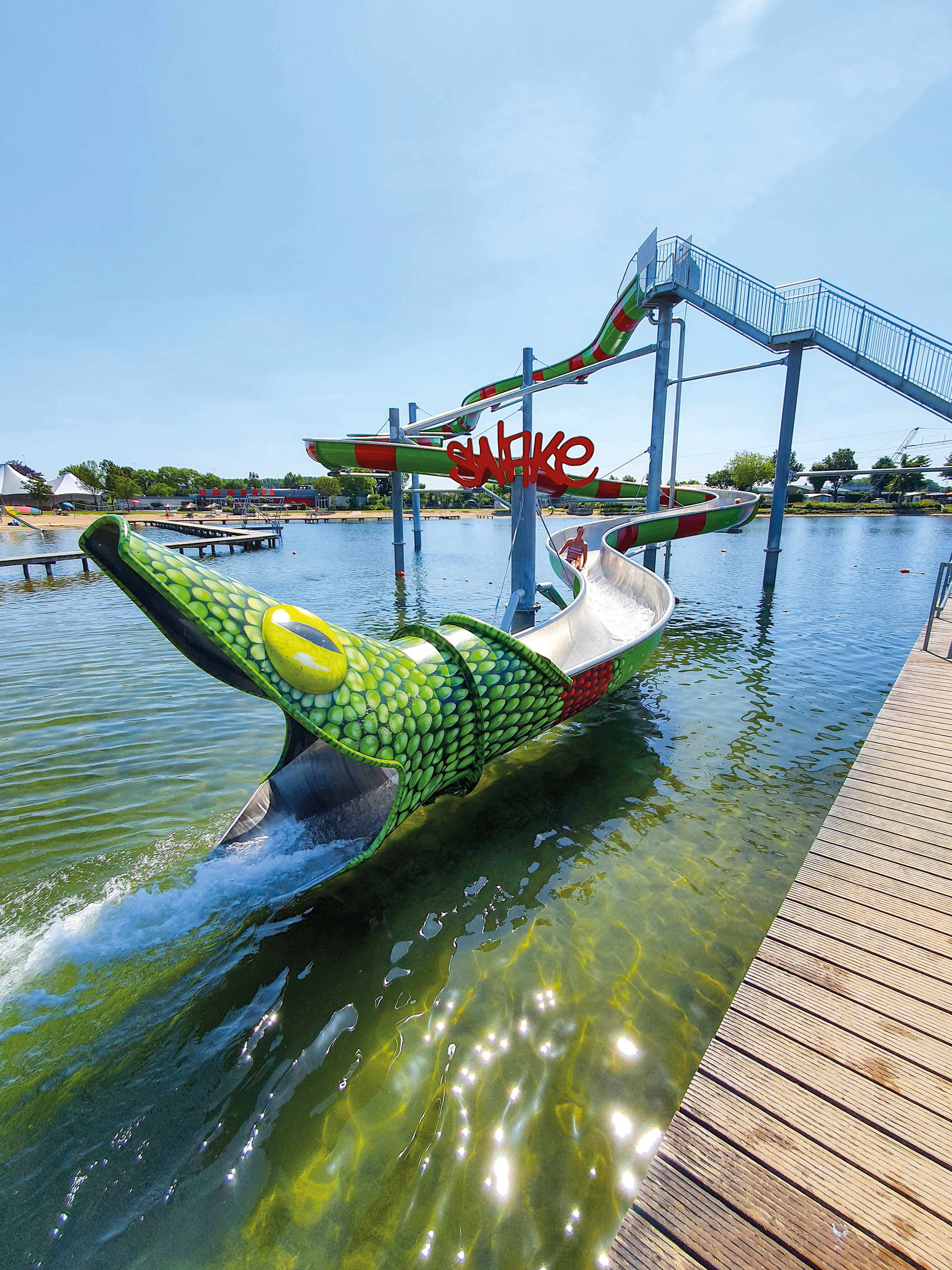 Classic with a new twist
The stainless steel tumble wave is still the most popular water slide, newly equipped with new elements: Multiple lanes with or without waves both in one slide are already a standard. In summer 2021, the first "game-wave" will open in Zellingen, Germany, with competitive touch points along the slide and a score indicator so that two slide guests can compete against each other. Return visits guaranteed! Pool guests can choose between exciting combinations on and alongside the tumble wave with various WIE-Spray products, the own line for spray parks.
More colour in the game
It is often believed that stainless steel water slides can only be silvery. However, up to the true space where riders slide on everything can be freely designed in terms of colour. In addition to colours that harmonize with the architecture, graffiti is also possible - supplemented by LED light effects or glass acrylic parts. Still not enough colour? Wiegand has had for 15 years now fiberglass slides on offer with their own production near Berlin.
Of course, Wiegand makes sure to deliver German quality here, too: the fiberglass is thicker and stronger than that of most of its competitors. But being down-to-earth does not mean that there isn't some crazy creativity, too. With "WIE-Glow" the slide lights-up inside with individual, dizzying black-light patterns. The huge "Big Bang" allows more pendulum movements in single, double, or even quadruple tire than any similar product in the industry; and the "LOTUS" slide swings guests through huge, differently sized leaves featuring a trendy organic look.
And those who have their children's water play landscape made from durable, environmentally friendly stainless steel can simply choose from the new topics such as fire brigade, construction site - or a galactic spaceport.