Interim solution is already an iconic waterfront park
From a sea of asphalt to a green oasis, Concord Community Pop-up Park has re-animated the former Expo '86 lands in Vancouver, BC as a vibrant, highly programmed destination. PWL Partnership Landscape Architects have created a social hub for locals and non-locals alike.
The interim waterfront park is owned, built, maintained and programmed by Concord Pacific Developments Inc. Completed in fall 2018, its life span is estimated to be around five years – until future development occurs and a permanent park is built. PWL Partnership Landscape Architects Inc.'s and Concord's approach to the temporary park design was centred around a proud commitment to public consultation; leveraging community wisdom, needs and interests played a significant role in shaping the park. Such involvement led to the development of a park attendants programme, with indigenous youth and people from the local community hired to manage activities in the park. The park is open to the public daily, from dawn until dusk.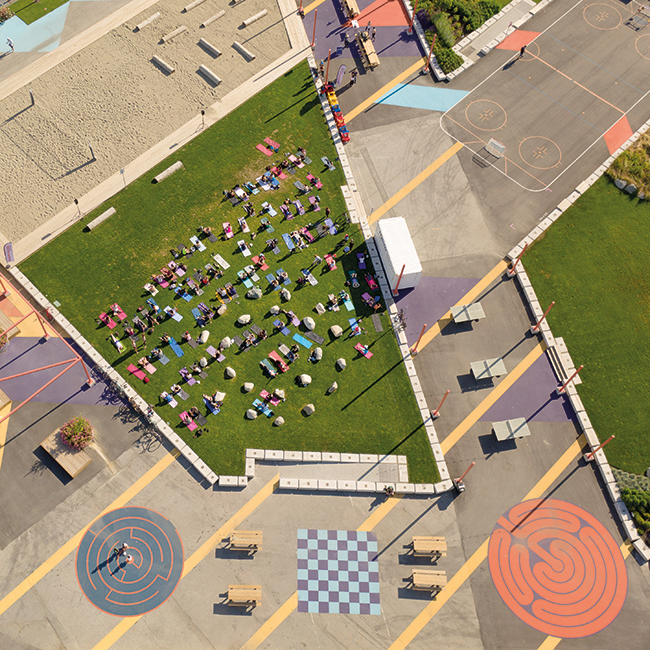 Facts
Location
Vancouver BC, Canada
Client/operator
Concord Pacific Developments Inc.
Landscape Architects
PWL Partnership Landscape Architects Inc.
CA-Vancouver
www.pwlpartnership.com
Design team members
Margot Long, Principal
Katya Yushmanova, Associate
Liz Nguyen, Senior Landscape Architect
Kayla Poch, Landscape Intern
Author
PWL
Photos
Brett Hitchins (Brett Ryan Studios)
Tom Yim (Concord Pacific)
Official opening
September 2018
Construction costs
CAD 1.2 million
(EUR 820,000)
Place for spontaneous activities
Bordered by Vancouver's iconic seawall walking and cycling route, thousands of people pass by each day, and millions annually. For over 30 years, the site was a parking lot at the northeast corner of False Creek. Today, the roughly 1,4 ha pop-up park hosts loosely-programmed and spontaneous activities ranging from free yoga and roller hockey lessons to life-sized chess and bocce, attracting an often overlooked demographic of youth and young adults. Picnicking and gathering are welcomed with harvest-style picnic tables, where local daycares often gather on their walks for snack time and play. Recreational equipment is readily supplied by park attendants for whomever wants it.

Many local events such as the annual Dragon Boat Festival and a weekly outdoor market lend to the vibrancy, and food carts wheel in with ice cream or pakora treats. Viewed from above as the SkyTrain winds its way into the downtown, distinctive sunset-coloured structures draw one's eye toward the park – a graphically exciting frame for activity in a highly visible locale.
Coastal roots
To highlight its temporary nature, the waterfront park is set atop an existing asphalt surface, with green islands raised above the pavement to accommodate expanses of lawns, native and edible plantings, fruit-bearing trees and even a sandy beach for volleyball and sand play. Shored up by exposed lock-blocks that double as seating, the raised areas allow both a view to the water and to the surrounding action. On the ground plane, a riot of colour (inspired by Expo '86) in painted asphalt delineates sport courts and life-sized games. Throughout the site, flexible seating types are designed to accommodate large social groups and individuals — moveable Adirondack chairs evoke a backyard vibe and allow visitors to curate their own experience, while beach logs and boulders nod to the park's coastal roots.
What characterizes this place is its informality. Already an iconic waterfront park, with its countless geotagged and instagrammed moments, organic happenings such as dance practices and temporary art installations are evidence of how the design of the pop-up park is providing an evolving stage for open-ended experiences.