New heights of recreation
CopenHill, also known as Amager Bakke, is opening as a new breed of waste-to-energy plant topped with a ski slope, hiking trail and climbing wall, embodying the notion of hedonistic sustainability while aligning itself with Copenhagen's goal of becoming the world's first carbon-neutral city by 2025. CopenHill is a 41,000 m²  waste-to-energy plant with an urban recrea­tion centre and environmental education hub. The designers at BIG and SLA have turned social infrastructure into an architectural landmark.
CopenHill has been conceived as public infrastructure with intended social benefits from day one. Replacing the adjacent 50-year-old waste-to-energy plant with Amager Ressourcecenter (ARC), CopenHill's new waste-incinerating facilities are adopting the latest technologies in waste treatment and energy production. Due to its location on the industrial waterfront of Amager, where raw industrial facilities have become the location for extreme sports from wakeboarding to go-kart racing, the new power plant adds skiing, hiking and rock climbing to thrill seekers' wish lists.
Facts
Location
Copenhagen, Denmark
Client/operator
Amager Ressourcecenter
Architects
Bjarke Ingels Group ApS
DK-Valby, Copenhagen
www.big.dk
Collaborators
Detailed Design:
SLA, Lüchinger+Meyer, MOE, Rambøll,
Jesper Kongshaug and BIG Ideas
Competition:
AKT, Topotek 1, Man Made Land,
Realities:United
Design team members
Partners-in-Charge:
Bjarke Ingels, David Zahle,
Jakob Lange, Brian Yang
Project Leaders:
Jesper Boye Andersen, Claus Hermansen,
Nanna Gyldholm Møller
Author
BIG-Bjarke Ingels Group
Photos
Rasmus Hjortshøj, Dragør Luftfoto, Aldo Amoretti
Official opening
October 2019
Sloping roof
The internal volumes of the power plant are determined by the precise positioning and organisation of its machinery in order of height, to yield an efficient, sloping roof fit for a 9,000 m² ski piste. At the top, experts can glide down the artificial ski slope with the same length as an Olympic half-pipe, test the freestyle park or try the timed slalom course, while beginners and kids practise on the lower slopes. Skiers ascend the park by the platter lift, carpet lifts, or glass elevator for a glimpse inside the 24-hour operations of a waste-incineration plant.
Reaching the summit of CopenHill, recreation buffs and visitors will appreciate the novelty of a mountain in an otherwise flat country. Non-skiers can enjoy the rooftop bar, cross-fit area, climbing wall or the city's highest viewing platform before descending the 490 m tree-lined hiking and running trail within a lush, mountainous terrain designed by Danish Landscape Architects SLA. Meanwhile, the 10,000 m² green roof addresses the challenging micro-climate of an 85 m high park, rewilding a biodiverse landscape while absorbing heat, removing air particulates and minimising stormwater runoff.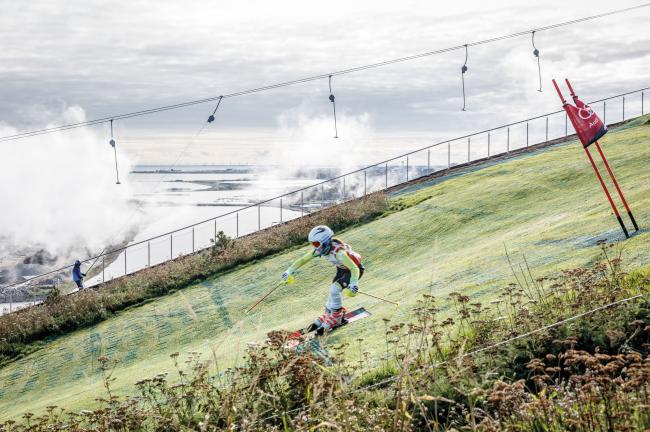 Needs from below and desires from above
Beneath the slopes, whirring furnaces, steam and turbines convert 440,000 tonnes of waste annually into enough clean energy to supply 150,000 homes with electricity and district heating. The needs of the power plant to accomplish this task, from ventilation shafts to air-intakes, help create the varied topography of a mountain; a man-made landscape created by reconciling the needs from below with the desires from above. Ten floors of administrative space are occupied by the ARC team, including a 600 m² education centre for academic tours, workshops and sustainability conferences.
World's tallest artificial climbing wall
Rather than considering the project as an isolated architectural object, the building envelope is conceived as an opportunity for the local context while forming a destination and a reflection on the company's progressive vision. CopenHill's continuous façade comprises 1.2 m tall and 3.3 m wide aluminium bricks stacked like gigantic overlapping blocks. Between them, windows admit daylight deep inside the facility, while larger openings on the southwest façade illuminate workstations on the administrative floors.

On the longest vertical façade, an 85 m climbing wall, with views inside the plant building, is installed as the world's tallest artificial climbing wall for new world records to be broken. At the bottom of the ski slope, a 600 m² après-ski bar welcomes locals and visitors to unwind once the boots are off. Once a piece of infrastructure in an industrial zone, CopenHill is becoming the new recreational destination for families and friends and for celebration, and one that is economically, environmentally and socially profitable.