Welcome & I see your light
The Aaniin Community Centre and Library combines an extensive multi-use program including a district library, aquatics centre, fitness area, multi-use rooms, double gym, and performance space in addition to various change room, food concession and support spaces. The central goal of the concept by Perkins + Will is to explore a framework that multiplies (or overlaps) the connections that exist between programs, people, and environments. This creates a stronger sense of community and place and greater interdependence with the surrounding natural systems.
Located in a suburban landscape, where multiple families often share single-family houses, the community centre is appreciated as a second home for a diversity of people. Conceived as a threshold, the building participates directly with the dynamic new public realm. An array of pathways inscribe across the site, interweaving the community centre and park into its larger context. The internal streetscape offers continuity between interior and exterior spaces and a strong pedestrian connection across the site.
Facts
Location
Markham, Ontario, Canada
Client/operator
City of Markham
Architects
Perkins + Will
110 Yonge Street, 12th Floor
CA - Toronto M5C 1T4
www.perkinswill.com
Design team members
Duff Balmer – Design Architect  
D'Arcy Arthurs – Principal in Charge
Phil Fenech – Project Manager  
Doug Warren – Project Architect
Author
Perkins + Will
Photos
Tom Arban
Scott Norsworthy
Official opening
December 2017
Construction costs
CAD 52 million
(EUR 34.5 million)
One community – one roof
The design is generated around a massive wood roof, which serves as a powerful unifying element in pulling the various programs and spaces together. A warm wood roof references a global association with shelter, inviting residents in, creating the feeling of a united gathering space.
The extensive overhanging roof connects indoor and outdoor spaces. In summer, outdoor rooms are activated under the dramatic overhangs including a reading garden, youth terrace and marketplace. The roof establishes a sense of place within an otherwise placeless setting and suggests a new model of suburban life.
The indoor town square
Internally, the building is centred around a generous open gathering space and stage, flanked by amphitheatre seating, flexible storage areas and open mezzanines. Designed with specialized lighting, acoustics, and a sophisticated audio-video system, this open gathering space is more akin to a public square en-
abling the centre to host a variety of events, ranging from an intimate dance recital to a bustling cultural celebration or Bollywood movie night for 500 people. This approach results in a maximization of space supporting more flexible programming compared to a traditional enclosed room.
The library – multigenerational convergence
The library is wrapped in glass to showcase its unique programs and spaces and blur boundaries with the adjoining community centre spaces.
Demographic data indicates many multiple-family households. This underscores the need for spaces to serve multiple generations. A supersized kids' area is designed to be a fun and engaging gateway to serving the whole family. Designated spaces for all stages of life are appropriately situated to promote growth, curiosity and learning.
The use of wood plays an important role in achieving the project's LEED® Gold target and broader sustainable objectives. It was chosen for its renewable properties and its ability to be regionally sourced. It was also seen as the best choice of material given its low embedded energy, its clear benefits from a life cycle assessment perspective and its ability to sequester carbon as a means of reducing and offsetting harmful carbon emissions.
Inclusive community engagement
This identification of the community's values ultimately informed the overall look and feel of the building. This process began as a series of simple questions including: 'How will you use this space differently?' What followed were a sequence of interactive visioning exercises with the residents and stakeholders including City staff, librarians and community groups. This process revealed the need for a more flexible approach to planning and using the public spaces. The design questions and solutions focused on how the unique cultural needs of the community, largely comprised of newcomers, can be expressed within the overall design.
Identity
Aaniin is the Ojibwe word for 'welcome' & 'I see your light'.
The name was chosen to welcome the diverse communities within Markham. It honours the indigenous heritage in the spirit of Canada 150 and the ideals of Truth and Reconciliation. The design reflects these concepts in the rich colours and patterns which form the centre's glazing; the expressive wood roof holding the community together; and the diversity and transparency of program elements.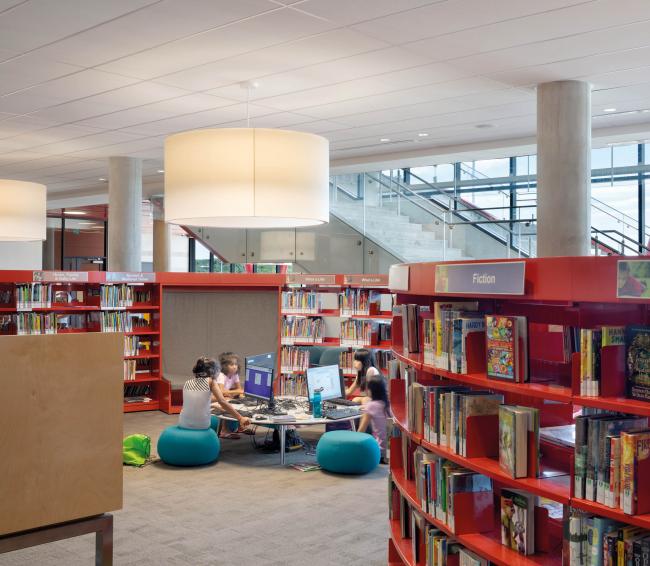 Three questions to the Architect Phil Fenech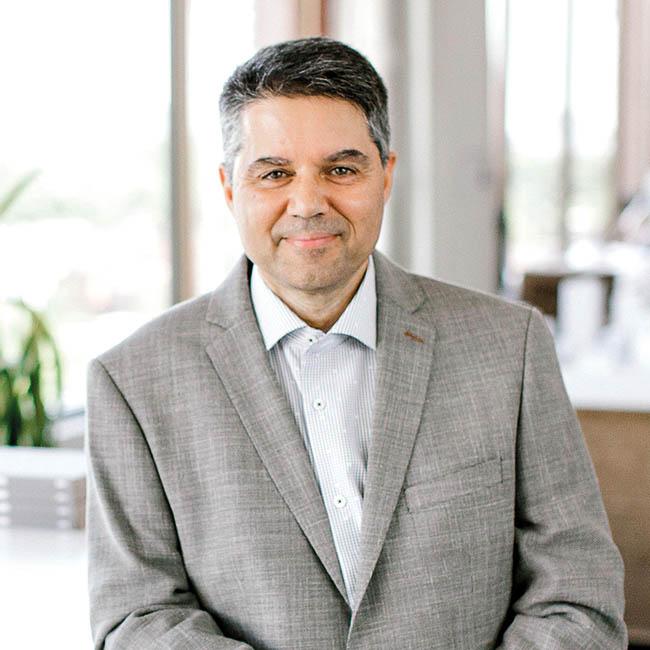 Which theme will dominate community recreation architecture in the near future?
We are seeing a trend where recreation centres are becoming places for more than sport or fitness. They are now an important part of our social infrastructure where people come for many reasons, stay as long as they want, enjoy the programs offered and get to know one another. Perhaps this proves that there is still a need to connect directly with one another, despite our digital lives. In Canada, these centers are an important threshold into society for new Canadians. This is where they take their children for swim lessons, use the library or share recipes at the community kitchen. They are a place that encourages all of us to try new things, make new friends and to contribute collectively. Today there is a growing priority on creating a safe, sheltering destination with a clear sense of identity, creating multiple connections between people, programs and environments.
How do you determine the best materials for sport and recreation buildings?  
We strive to create a facility that is both aesthetically pleasing, but also highly functional, so when it is not being used for active sports it pleases and delights in its own right.
In the case of Aaniin, the use of wood plays an important role aesthetically and towards achieving our broader sustainable objectives. We chose wood for its renewable properties, ability to be regionally sourced and low embedded energy.  Wood has a proven durability and a timeless appeal. This is especially vital in the pool environment where resistance to corrosion and higher levels of relative humidity is paramount to the overall performance. We love its natural beauty and warmth, which helps create a distinctive identity for this new community hub.
What memory of sport has influenced you as an architect?
As children, our first experiences in a pool or gym are special and memorable. They are stages where we performed to the very best of our abilities. They are visceral places that stay with us; the sound of sneakers on the hard wood, the feel of the tile under your feet or the humidity on your skin. As architects, we draw upon those memories but seek to make them better. We aim to bring in more sun, and create open inspiring spaces.  I can attest to the difference this makes, since I use a facility we designed and find it much more engaging and supportive than the old pools and gyms I knew as a child.