The 2023 IAKS Study Trip comprised visits to six high-calibre sports and leisure facilities in Greater Tokyo, including innovative and tradition-rooted facilities erected for the 2020 Tokyo Olympics and exhibiting features typical of Japanese architecture. 42 participants from Argentina, Australia, Canada, Denmark, Germany, New Zealand, Norway, Singapore, Sweden, Switzerland, the United Kingdom and the USA met in July for an intercultural exchange with Japanese experts. The IAKS Japan team led by Prof. Dr Takanori Fukuoka put together an exclusive viewing programme.
Those participating experienced their first highlight immediately on arrival. The International House of Japan venue hotel is an architectural gem dating from the 1950s and was only bookable through the special connections of IAKS Japan. Originally founded as a place of intercultural exchange by notable American and Japanese personalities, its history has much in common with that of IAKS.
Tour and talks with architects and operators
The Asics Sports Complex Tokyo Bay is a fitness club that is impressive for its varied training options. In altitude training, conditions from 2,000 to 3,000 m above sea level can be simulated (in hypoxia training, a 16.5% oxygen content, for example, simulates an altitude of 2,000 m). The GRP (glass-reinforced plastic) shell of the 50-m pool is unusual for public pools of this size in terms of its low weight and earthquake resistance.
The Brillia Running Stadium is a mobile, indoor running facility built for the 2020 Tokyo Olympics and will move to a new location before the end of the year. The presentation by Xiborg, a manufacturer of competition running prostheses, made a lasting impression. The technology developed for top athletes is to be available to all prosthesis wearers from now on, which, as far as children are concerned, is a challenge in view of the price.
Ariake Tennis Park is the enlarged tennis centre for Tokyo 2020 with 49 tennis courts created around the Ariake Tennis Colosseum built in 1987.
The first day was brought to an outstanding close with the Yoyogi Gymnasium. This is an absolute masterpiece by Kenzo Tange with its complex and attractive suspended construction. It is also notable for its timeless aesthetics in the interior and its functionality. The two halls, with capacities of 4,000 and 13,000 spectators respectively, were used for both the 1964 and 2020 Olympic Games.
In the evening, the study trip party gathered at the International House of Japan for a reception and held lively discussions.
Topography as a site advantage
The second day started with a visit to the impressive National Stadium with its 68,000 spectator capacity. The stadium newly built for the 2020 Summer Games is particularly remarkable for its greenery and its rooftop level open to the public free of charge during the day. It is used as a recreational haven and running track in the heart of the city.
The Waseda University Arena is distinguished above all by its innovative and sustainable approach. Since it is almost completely embedded in the terrain, a virtually ground-level public park has been created on its roof. Lowered into the ground with a constant ambient temperature of 18 degrees Celsius, energy consumption (both heating and cooling) is 60% lower than in conventionally designed buildings. Nevertheless, there is natural lighting, as spectator access to the 2,000 seats is via an external light well. An important additional feature in Japan is high earthquake resistance, which is why this facility is also designated an evacuation centre in the event of disasters.
The Tokyo Metropolitan Gymnasium and Swimming Pool, both used for the 1964 and 2020 Olympic Games, are also partly recessed into the ground.
To round off the second day, the party was given an exciting demonstration of such classic Japanese martial arts as Kyudo, Kendo, Judo and Aikido at the Shiseikan Budo Hall. The facility is located in the beautiful Meiji Jingu Park, so it was possible to take a look at the Meiji Shrine on the way back.
Optional visits to swimming pools and outdoor facilities on the third day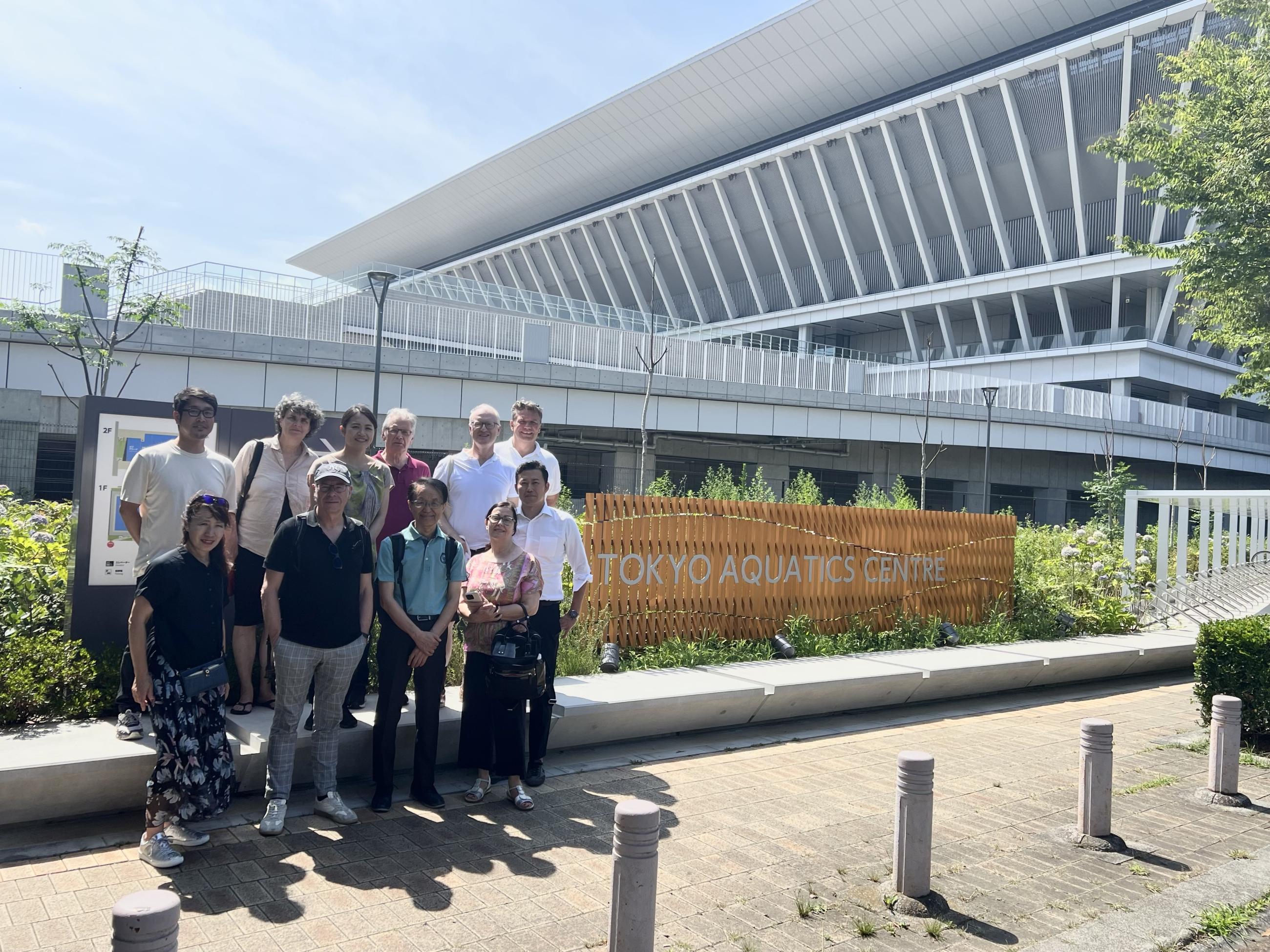 The programme for those interested in pools took them to three very different facilities. The municipal Bunkyo General Gymnasium is a multi-functional sports and leisure facility with a swimming pool, 2-court sports hall, Kyudo hall and two dojos.
The Tokyo Aquatics Centre built for the 2020 Olympic Games has a capacity of 15,000 spectators. Powdered algae (instead of powdered activated carbon) are used for water treatment. In addition, UV light is used for all of the circulated water. The ventilation is designed to target the water surface with fresh air for swimmers.
Last on the programme of visits was the privately run fitness club Renaissance Kameido, which enjoys high membership and, in particular, high numbers of children's swimming classes. A tool developed by an electronics company allows children to see a video of their training afterwards.
Another tour led to urban activity areas in Tokyo. Tsuruma Park is a public park with a landscaped area for recreation, a spacious playground and family area, and a sports area with football, tennis, climbing and fitness facilities. It is op­erated under a PPP partnership so that the football and tennis courts can be rented for a fee via an online booking system.
In the public Shinjyuku Central Park, a commercial studio operates a pavilion with yoga and bouldering activities. Some of the yoga classes take place outside on a grass area of the park, which the studio has rented from the park administration for exclusive use only.
Finally, Miyashita Park in the immediate vicinity of "Shibuya Crossing" shows a creative solution for creating an oasis of activity and tranquillity on the roof of a shopping centre in the midst of high-rise buildings. Here, too, the use of the sports areas is subject to a fee.
Valuable know-how and cultural exchange
IAKS Japan offered the study trip participants fascinating insights into its country's sports and leisure facilities. The ­valuable exchange of expertise was perfectly matched by the flawless organisation and the wonderful cultural setting, offering ideal opportunities for establishing and maintain­ing contacts with participants from all over the world. Many thanks to our IAKS colleagues in Japan, and first and foremost to Prof. Dr Takanori Fukuoka.