Many students, clubs, and sports organizations in Chemnitz were delighted about the reopening of the sports complex. The two identical halls from 1978 were long overdue for comprehensive renovation. As part of these efforts, not only were the energy standards of the sports halls brought up to date, but the training facilities were also modernised. The complex now meets the highest standards in terms of safety, acces­sibility, and sustainability.
Lindner Group outfitted both sports facilities with ball-impact resistant ceiling constructions. The LMD-St 213 BWS system with emphasised joints was secured using hold-down clips to achieve the certified ball-impact resistance. The expanded metal ceiling offers not only exceptional functionality but also appealing aesthetics. The design possibilities are diverse, as various mesh types, shapes, and sizes are available. Depending on the mesh selection or requirements, the view into the ceiling void can be more or less open. With a generous free cross-section, it's even possible to install lighting or other ­fixtures within the ceiling void.
The expanded metal ceiling can be observed with accentuated joints in both directions, allowing for revision options due to individually operable, foldable, and movable ­ceiling panels. These attributes contribute to the versatility and ­functionality of the sports facilities while simultaneously offering an aesthetically pleasing ambiance.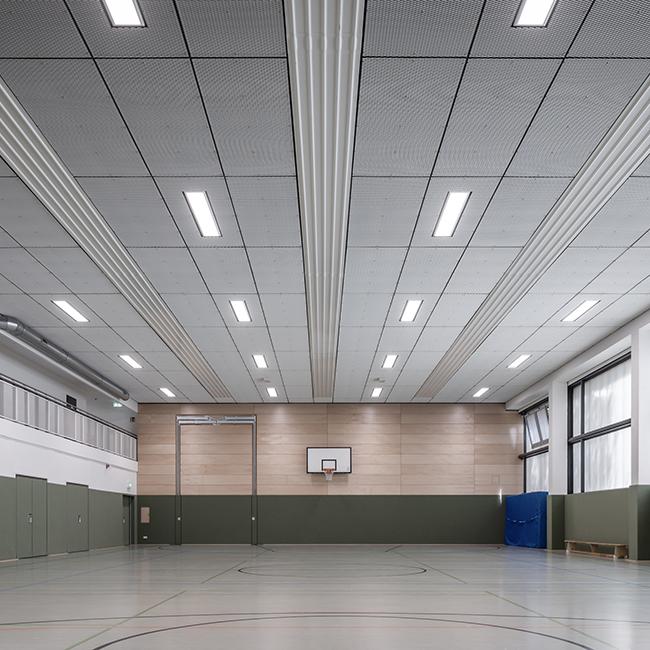 News from Member: