Perrot Germany has done a lot of pioneering work in the field of central control systems. The Perrot Greenkeeper control was the first control to be operated with the Nokia Communicator. Its successor, the Perrot Satellite Control, was the first web-based decoder controller ever.
Now Perrot sets new standards with SIRRAH™.
SIRRAH™ is specially designed for the challenges of a wide variety of systems. From golf courses and sports facilities to amusement parks, SIRRAH™ is the first choice in irrigation control. With SIRRAH™, Perrot's customers now have all the key irrigation information on an intuitive user interface, mainly thanks to an innovative dashboard with app-like icons that are intuitively designed like the smartphone and tablet computer apps.
Furthermore SIRRAH™ is a web-based software, making it easy to install on all PCs, independently of the version of the operating system. Only a legalized app download is required for the installation and quick setup.
Of course SIRRAH™, as any modern central control system should do, offers the possibility of remote control via smartphone or tablet so that course and grounds managers can monitor and modify their irrigation planning from anywhere and at any time.
The system also offers improved flow management with dynamic programs to allow efficient absorption of water and automatic maximization of pump usage. SIRRAH™ is also compatible with all existing PERROT central control decoder systems: it will be extremely easy for any existing PERROT Satellite and Greenkeeper central control to upgrade to the new SIRRAH™.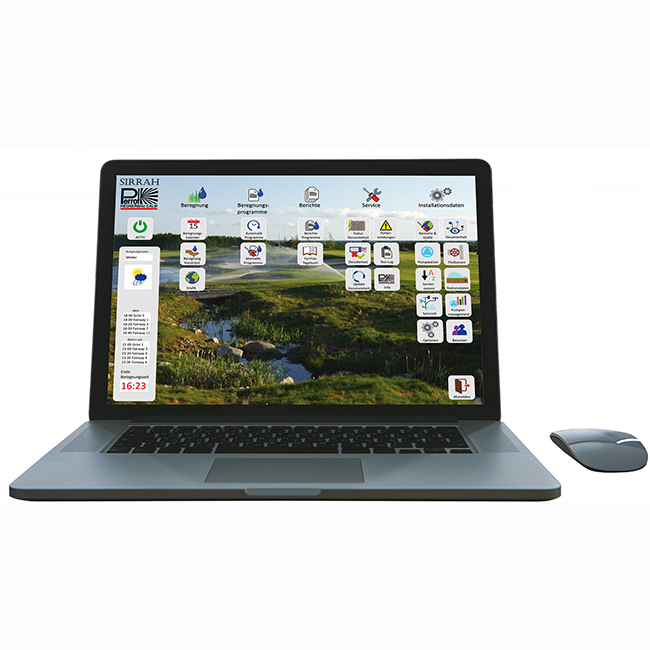 News from Member: