Myrtha Pools recently embarked on a European tour dedicated to architects, showcasing the advantages of Myrtha's solutions for leisure and aquatic centres. Myrtha Pools played a prominent role in three autumn events – in Germany, Spain and United Kingdom – with international architects, addressing topics such as Myrtha's contribution to green building certification and the reduction of time in installation and costs in maintenance. 
The first of these events took place at the prestigious headquarters of the College of Architects in Madrid (COAM), where Myrtha had the pleasure of presenting solutions developed for leisure and wellness projects. In the same week, the Myrtha Germany team participated in Archipoint Rivercruise, a significant gathering where 70 exhibitors welcomed architects on a tour that included stops in Frankfurt, Cologne, and finally Dusseldorf. At these stops, the focus stayed on services tailored to hotels and aquatic centres.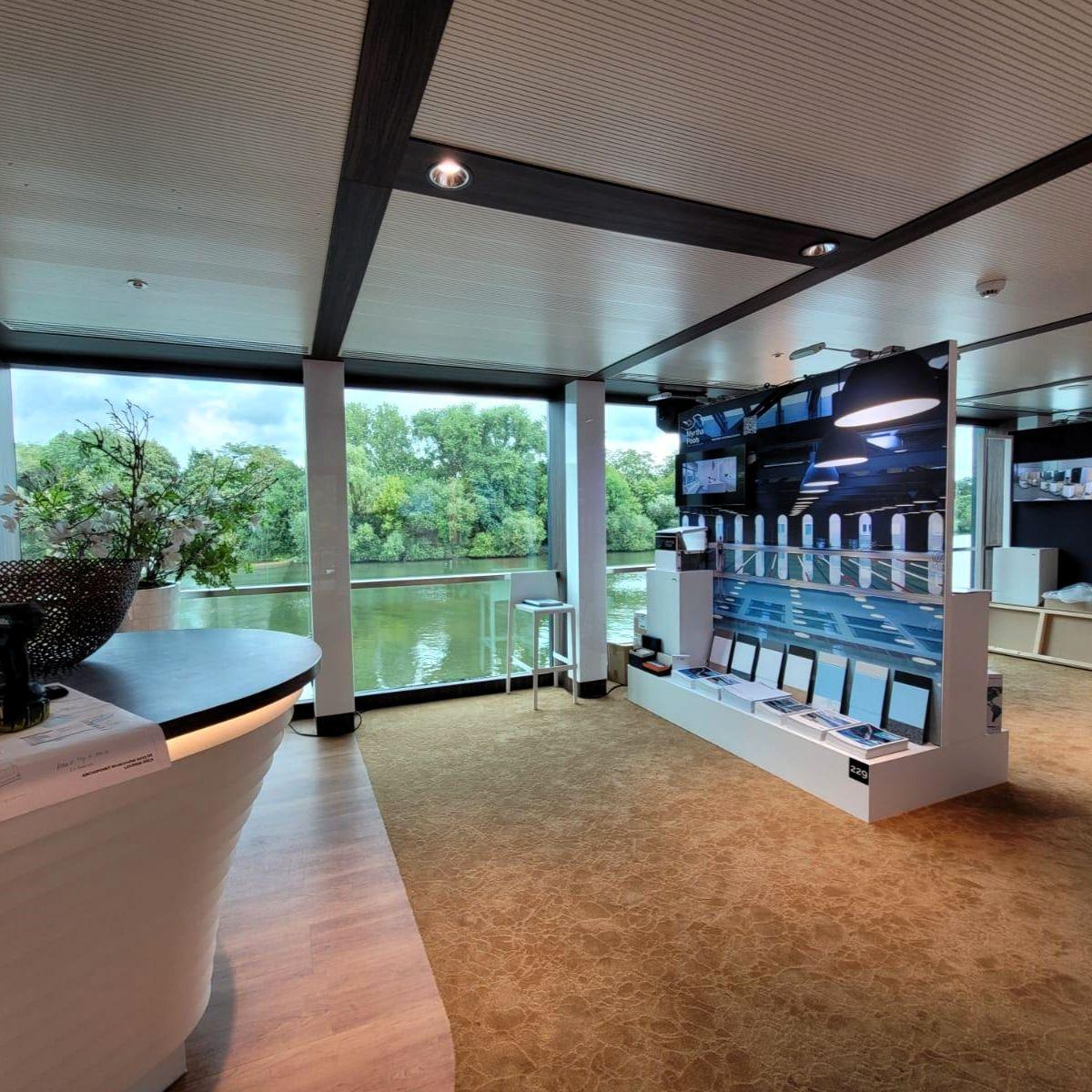 The third event, organized in collaboration with Swim England, took place in Nottingham. An interesting roundtable with selected architects and general contractors focused on the modern methods of construction that can help in revitalising aging leisure and aquatic centres in the UK. At this event, Myrtha Technical Director and Sustainability Manager, Innocenzo Pochini, proposed a solution for the issue of 40% of the leisure facilities in that country at risk of closing. Thanks to RenovAction technology, we can assure both short time commitments to refurbishing, and also reduced energy and water usage for the owner of the centres.
Among the projects that generated significant interest were the Passivhaus for Spelthorne Leisure Centre, the lagoon pool with a sand bottom at La Reserva Club and the high-rise pools for swimming centres like the case histories of University of Texas or the beautiful Alhondiga suspended swimming pool in Bilbao, a building refurbishment designed by Philippe Starck.
For the exclusive resort in Spain, the environment became even more unique for its guests after the creation of a 2,500 square meter "lagoon pool" with a sandy element simply known as "The Beach." Thanks to Myrtha's technology it was possible to create an elegant artificial lagoon with a bottom entirely covered in sand. The use of the self-supporting Myrtha structure allowed for cost savings in construction works, achieved by constructing a simple concrete curb around the perimeter of the lagoon onto which stainless steel panels were installed, and avoiding the costs of constructing a 2,000-square meter slab.
Architects find particularly interesting the challenges faced in some recent Myrtha projects for rooftop pools. Unlike concrete pools and welded steel pools that require cranes, with our modular solution the budget savings are considerable. In elevated projects, the Myrtha system can be easily transported via standard elevator and can be carried through doorways or windows, generating significant budget savings.
Contact us
phone: +39 0376 94261
Head Quarter in Italy:
via Solferino 27, Castiglione delle Stiviere (MN), 46043
7 branches and 70 countries (distributors, representatives, consultants worldwide - Myrtha Pools). Throughout its 60-year history, Myrtha Pools has taken on a large number of challenges and has constructed and installed more than 300 public swimming pools per year.
FINA Partner since 2009, with 5 participations in the Olympics Games and 150 world records registered in a Myrtha pool, the company has become the benchmark for competition pools.