IAKS and the International Basketball Federation (FIBA) agreed on working closer together. On 28 October 2021 at the IAKS Congress, Head of FIBA Equipment and Venue Center Bart Prinssen and IAKS Secretary General Klaus Meinel signed a Memorandum of Understanding for the next two years.
Both parties agreed to create an expert circle that can advise for the design, construction and renovation of modern basketball facilities (including multi-purpose buildings); and continuously adapt and enhance the knowledge that covers a broad range on architectural and building-related best practices and operational topics, including the areas of venue and event management.
The MoU is based on the goals of setting standards for basketball equipment and facilities, ensuring that they fulfil the strict requirements of high-level basketball competitions. At the same time, it promotes the construction of basic indoor and outdoor facilities, while actively encouraging the refurbishment of older ones. The objective is to attain high standards of quality, safety and technology, for the athletes, for the public, as well as for the media.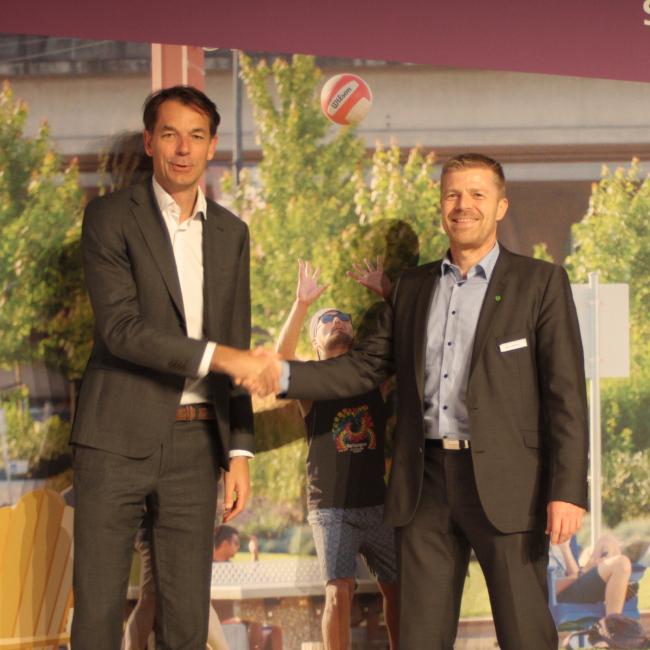 Head of FIBA Equipment and Venue Center Bart Prinssen said: "The collaboration between the FIBA Equipment & Venue Centre and the IAKS network of specialized architects offers the FIBA Family proximity and expertise in the benefit of our sport."
"The new partnership will help FIBA and IAKS in our common interest to promote and develop innovative and sustainable basketball facilities for All" said IAKS Secretary General Klaus Meinel.
Investors, owners and operators are kindly invited to contact FIBA and IAKS in the early stages of their sports venue projects.