Vorarlberg in Austria has another special attraction, a new bouldering arena in Dornbirn with a total of 1,200 square meters of bouldering space with various training and climbing options for beginners and professionals. Bänfer Sportmanufaktur was also involved in this special project and installed the popular Exclusive Type 2 boulding mats with a patented S-Connection System and a special carpet system with needlefelt in the climbing areas. The entire floor was equipped with these protection mats with a base consisting of a combination core with a solid surface. The combination core is made of composite foam that is glued to a softer PU foam and ­e­quipped with a unique S-Connection System, with which the cores are "interlocked" and almost seamlessly connected together to reduce indentation and gap slippage. The surface is a very smooth and thick PVC tarpaulin fabric, which is also strong, durable, lightfast and UV-stable.
The bouldering area edges are equipped with a special needlefelt system, that is only available at Bänfer Sportmanufaktur, in which the profiled needlefelt is laminated onto a PVC tarpaulin. This system combines the advantages of both materials – the carpet does not stretch and wear out, remains dimensionally stable and also offers a pleasant surface. The needlefelt sheets are 1m and 2m wide and are attached to the top of the mat and connected to each other with Velcro tape, so that individual elements can be quickly replaced if necessary. To improve the foothold on the mat, the entry areas and some wall areas are additionally provided with a fixed reinforced foam.
All components of the mat construction were custom made and adapted on site to the wall construction, which enables a clean and precisely fitting that is almost seamless.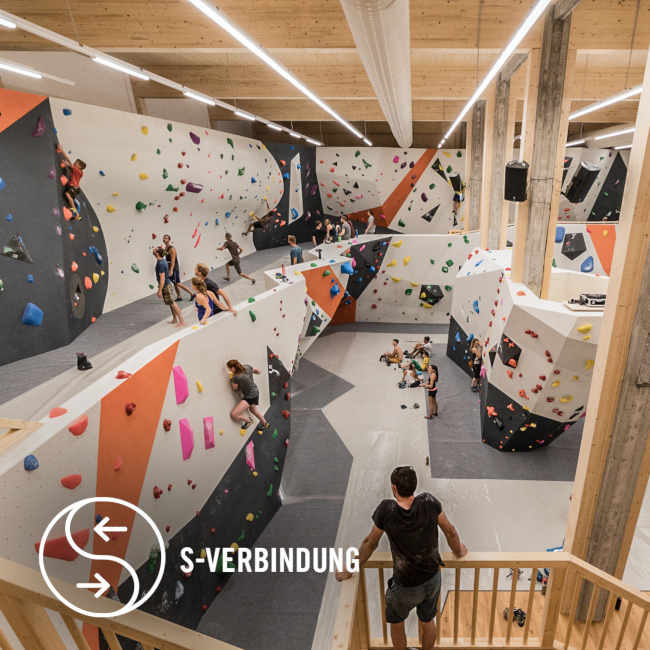 News from Member: