The quality and perfect condition of a running track are fundamental for athletes' performance and overall effectiveness. So that this can be ensured in the future, the athletics running track, already in use for many years, has had to be removed and replaced. The training centre is part of the Olympic Sports Centre Stadium located in the north of Beijing (south of the Olympic Green with the famous Bird's Nest stadium). For the Olympic Games, the Olympic Sports Centre Stadium was renovated to host two disciplines in the Modern Pentathlon.
For the installation of the Olympic Sports Centre's new 400 m running track, the Stobitan® SW system was chosen – a perfectly suited and waterproof sandwich system that meets the standards of World Athletics, DIN 18035-6 and EN 14877. After the old running track surface had been removed and all the asphalt work completed, the material for the approxi­mately 10,000 m² site was delivered.
First of all, the new concrete slab was pretreated with a special primer. Then the Stobitan® SW track consisting of three different layers was installed. For the right finish, a water- and UV-resistant PU coating was applied. The athletics training centre also comprises two long jump inrun tracks along the east and west straights and a moat outside the north curve. The training centre has been certified by Word Athletics with a class 2 rating.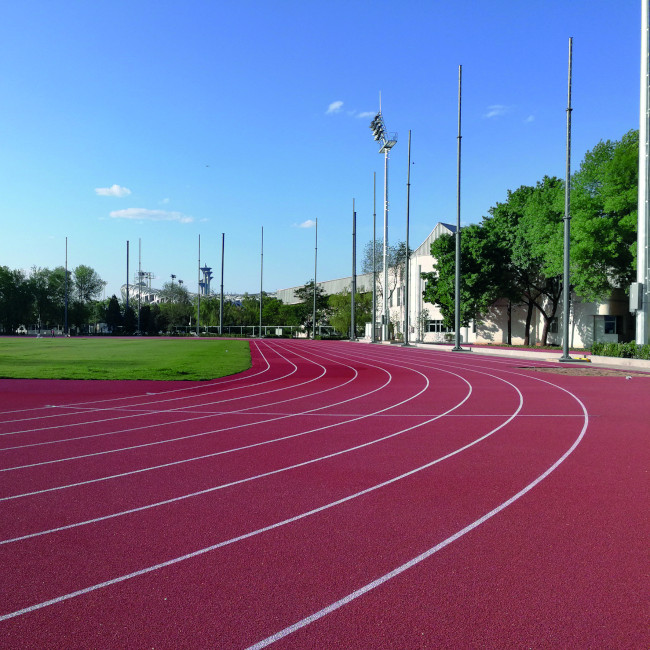 News from Member: