Lessons learned at the 26th IAKS Congress on day 3: Programming and design of sports halls need to evolve to meet the needs of today´s and future users and an ever-broadening range of utilizations. Multi component indoor recreation facilities are a typology of sports halls which are well established in North America and in the UK, showing potential for new approaches in Europe. Speakers from the US, Canada and Great Britain provided deep insights.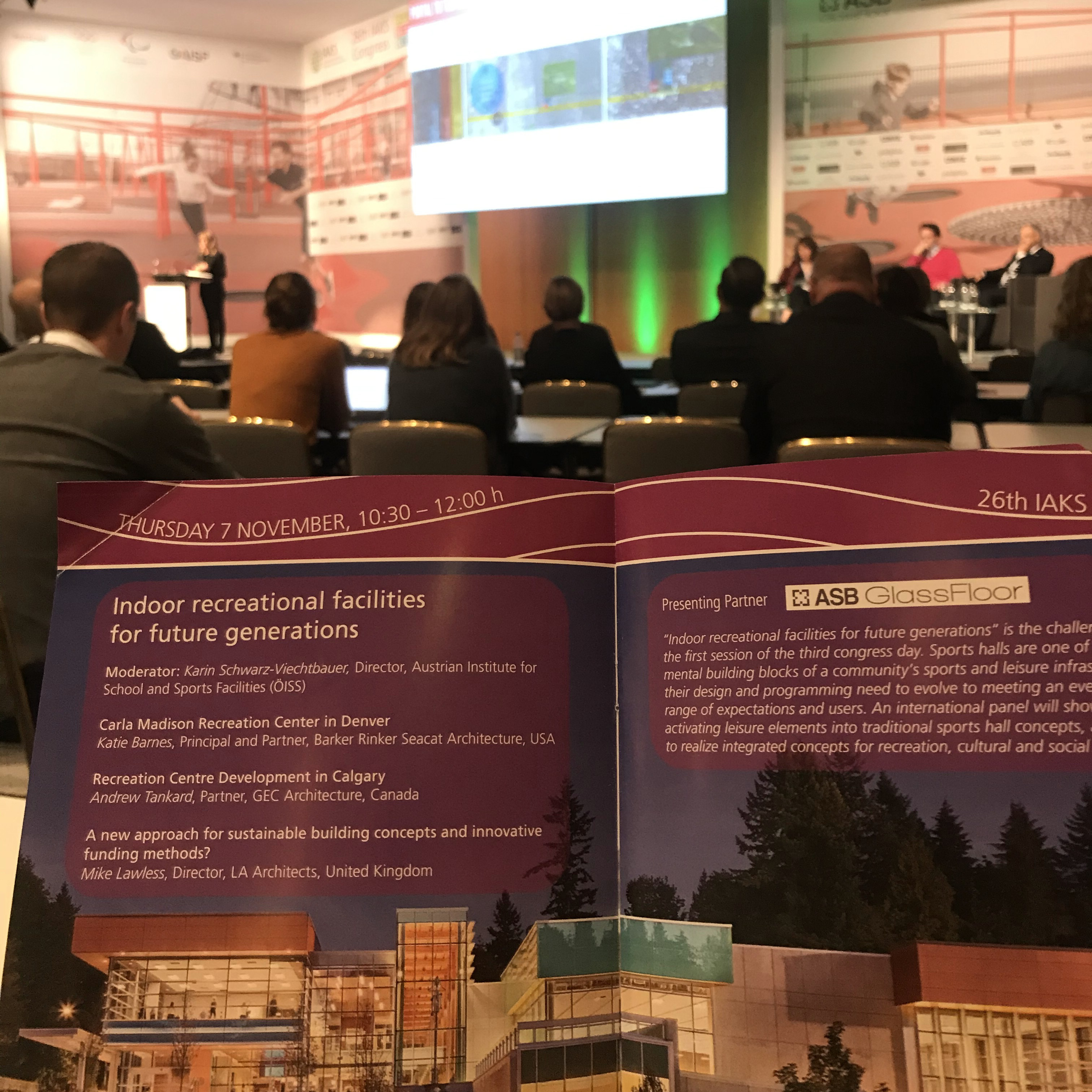 Indoor recreational facilities for future generations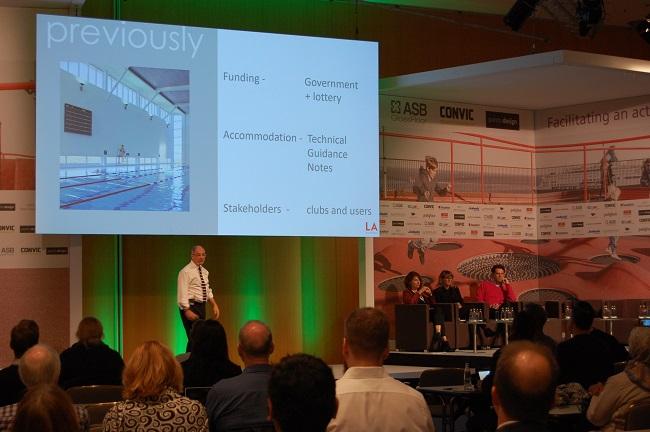 Katie Barnes, Principal and Partner at Barker Rinker Seacat Architecture from the US presented Carla Madison Recreation Center in Denver, Colorado as a case study in urban community recreation solutions. Coming together at a facility as a community is as important as the activity itself. Her design is woven into the physical and visual connections of its surroundings. People are looking for memorable experiences. Expanding the program in her design Katie, strives for a better utilization of all exterior space.
From Alberta, Canada GEC Architecture Partner Andrew Tankard explained the development of recreation centers in Canada in general and presented in detail Shane Homes YMCA at Rocky Ridge. He pointed out the advantages and synergies of having all facilities (e.g. pool, ice rink, library, theatre, track, fitness) under one roof.
Soon after Mike Lawless, Director at LA Architects had succeeded in activating the audience by inviting everybody to participate in some physical excercise, he pleaded for a change in the traditional programming of sports facilities. In spite of 500 new built pools in the years 2006 to 2016, the drop out rate in swimming in the UK is at 24 % during the same period. Mike raised the question if we simply ask the wrong people the wrong questions. He invited to think differently; design for the majority; including those who do not participate; design for activity; understand that people's needs have changed. Designers must ask why - not what!
Social and financial sustainability of public pools
The second session dealt with socio-economic goals of new projects, which are essential for the decision making, and with different operating models which have to be adequate for the specific facility.
Talking about public pool development and the right order of decisions, HCMA Managing Principal Darryl Condon put a strong emphasis on the social impact of projects, presenting the HCMA social sustainability framework and their social impact guide. Promoting extraordinary public design he urges to "include the community for which you are there to serve" and to "measure and share your impact". Hillcrest Center in Vancover was presented as an example of social and inclusive success. 
Dr Stefan Kannewischer, Managing Director of the Swiss family business Kannewischer Management AG spoke about "Economic sustainability: Optimising financial planning to get best value". Stefan emphasized regional planning and business feasibility studies in the concept phase of a project. He described pools as operator facilities where costs and energy consumption of the operation phase exceed the investment costs and where life cycle costs are crucial.
With his presentation "Operating Models - Choose the right one for your pool", Aura Holohan Leisure Group Founder and Executive Chairman Gar Holohan pointed out three essentials for success: market potential, optimum facilities and excellent management. He explained management options and key issues for municipal operation, for in house operation and for commercial operators. He outlined which considerations are necessary for decision-making in management options.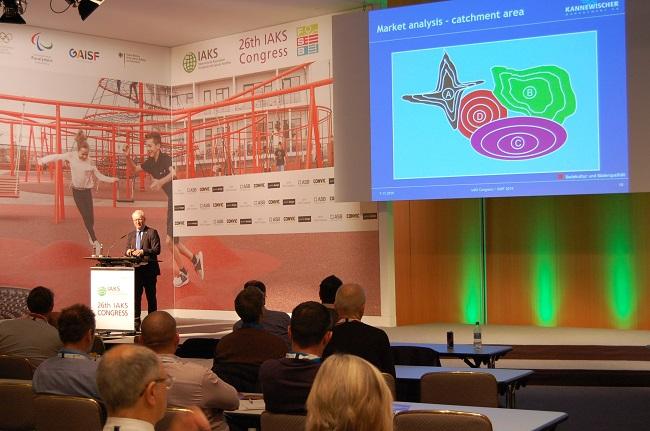 Ice rinks for leisure and physical activity
Ice rink experts from Northern America and Europe exchanged ideas how to develop the planning and design of ice arenas beyond the traditional model.
From Canada, MJMA Architects Founding partner Viktors Jaunkalns explained his model of a hybrid building with multiple components. He explained cost savings through multi-use facilities and reductions in staff and maintenance expenses. He presented several examples with clear public circulation and additional social space.
The Bend Pavilion presented by Opsis architecture Partner Jim Kalvelage is situated at the high desserts of Oregon with cold winters and hot summers. A financial feasibility study revealed the advantages of a semi enclosed instead of an indoor facility. The result is an attractive pavilion with a beautiful wooden roof and partly membrane wind shields instead of walls. The facility serves as an ice rink in winter time and for other sports and leisure use in summer time. Three year financials clearly show a successful facility where revenues exceed expenses. 
Ice adventure parks offer special experiences to the visitors including action elements, ice slides and downhill tracks as well as gastronomy, lighting and sound. Peter Hirvell, CEO and head of Sales at AST Eis- und Solartechnik, showed examples from Austria, China and Russia of temporary and permanent ice facilities, which can be installed at any public venue or integrated into any urban setting.