Myrtha Breathe is a system developed by Myrtha Pools research and design team with the purpose of removing volatile Disinfection-by-Products (DBPs), such as chloramines and halomethanes, from the atmosphere of an indoor swimming facility. It aims at preserving pools cleanliness and preventing the onset of diseases caused by a prolongated exposure to DBPs.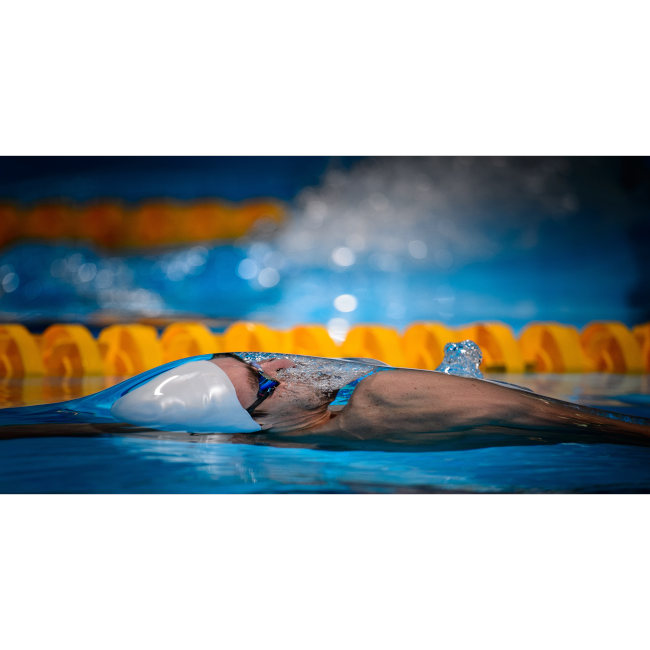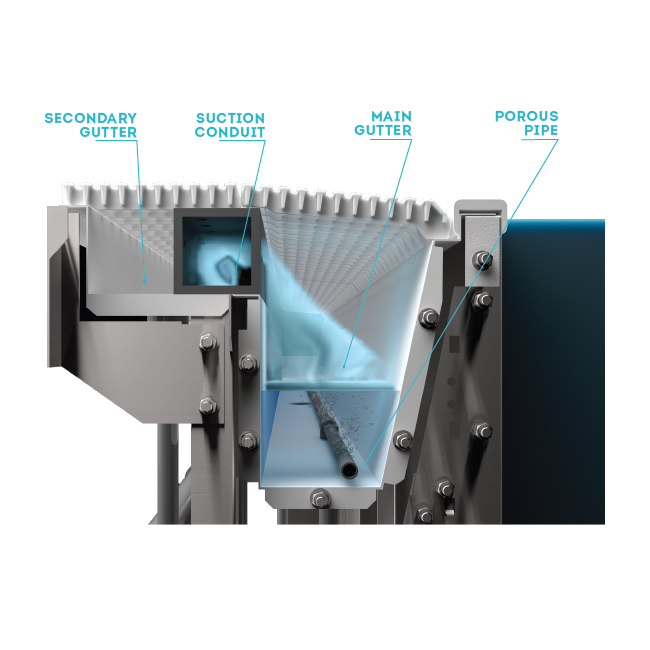 Since chloramines are dense and rest on the water's surface, swimmers breathing at the water surface are the most adversely affected. Professional athletes, age group swimmers, kids learning to swim and even not so frequent lap swimmers, are all victims to poor air quality and can suffer short term and long-term negative health effects caused by chloramines build up in an indoor natatorium.
The chloramines being produced within an indoor facility, without affective extraction are likely to eat away at surfaces throughout the facility, causing permanent damage to accessories and infrastructure around the pool as well as permanent damage to the building itself.
Watch the video Myrtha Breathe 2022 - Chloramines Purifying System
How does Myrtha Breathe work?
DBPs stripping is performed in the gutter channel surrounding the pool. Air is insufflated through porous pipes that form fine bubbles, that absorbs the DPSs dissolved in the pool water and releases them into the air inside the channel.
From there, suction removes the stripped DBPs from the channel and generates an air flow which borders the channel and preventing DBPs from exiting. Suction is also performed toward the secondary channel and the pool deck in order to remove the DBPs spontaneously evaporated from the surface of the pool. The contaminated air is then exhausted outside the natatorium.
Myrtha for sustainability
Myrtha products already play a major role in contributing to LEED / BREAM / GREEN STAR, this new development is just an­other step further to creating an all-round sustainable facil­ity. Using Myrtha materials, as opposed to tile and concrete contributes to LEED certification, and incorporating solu­tions such as Myrtha Breathe, you are guaranteed a sus­tainable and eco-friendly facility, lasting years, and years. Myrtha Breathe fosters Myrtha's sustainability pursuit by improving indoor air quality for patrons and reducing long term damage to infrastructure.
The strong points of Myrtha Breathe
DBPs volatilization is forced into the gutter channel, a confined space; this way the removal through suction is easier.

Low impact on dissolved chlorine

thanks to its low volatility.

More efficient environmental suction

inside the natatorium, since DBPs tend to settle near the pool deck.

No huge additional plant

required: only a blower for air insufflation is needed.

Suction flow rate is lower than the amount requested for air exchange. Therefore, exhausted air from Myrtha Breathe can be embedded in the amount daily exhausted for compliance with HVAC regulations.
Contact us
phone: +39 0376 94261
Head Quarter in Italy:
via Solferino 27, Castiglione delle Stiviere (MN), 46043
7 branches and 70 countries (distributors, representatives, consultants worldwide - Myrtha Pools). Throughout its 60-year history, Myrtha Pools has taken on a large number of challenges and has constructed and installed more than 300 public swimming pools per year.
FINA Partner since 2009, with 5 participations in the Olympics Games and 150 world records registered in a Myrtha pool, the company has become the benchmark for competition pools.