The asphalt Wals-Siezenheim Pump Track is the largest in Austria. It is conveniently located directly next to the lake adjacent to the motorway in Viehhausen. The facility offers two mirrored tracks and a jump line situated on 900 m² of land. Children, teenagers and adults have been doing the rounds here since June 2017 – more than one million laps in just two years! This corresponds to 3.66 circumnavigations of the earth or 146,000 km of driving distance. One million laps on the Wals-Siezenheim Pump Track take about 7,300 hours or over 300 days. This just goes to prove that it is still worthwhile creating alternatives to mobile phones and the PlayStation.
But what exactly is a Pump Track and what makes it so popular?
The Wals-Siezenheim Pump Track is a multifunctional facility consisting of roller tracks and small berms. The track can be used with almost any roller sports equipment: with wheels, bikes, skateboards or scooters. The trend towards individual sports was taken into account during planning and construction. The Wals-Siezenheim Pump Track very quickly attracts a large number of different users – the fresh air alternative to mobile phones and game consoles.
The up-and-down movement of the body, so-called "pumping", generates risk-free speed. This is why pump tracks have been classified as one of the safer sports facilities. Further advantages: Spaces such as the Wals-Siezenheim Pump Track are almost maintenance-free, resistant to vandalism and produce only a low noise level.
All these very good reasons motivated the community of Wals-Siezenheim to assume a kind of pioneering role in 2017. In cooperation with Schneestern, a German provider of action sports facilities of (almost) every kind, they decided to build the largest asphalt pump track in Austria.
Thanks to the creative track design of two mirrored tracks, the Wals-Siezenheim Pump Track also offers the perfect conditions to compete in competition. But whether in competition or just for fun: the Pump Track, which is very conveniently located next to an adventure playground, enhances the regional leisure activities enormously.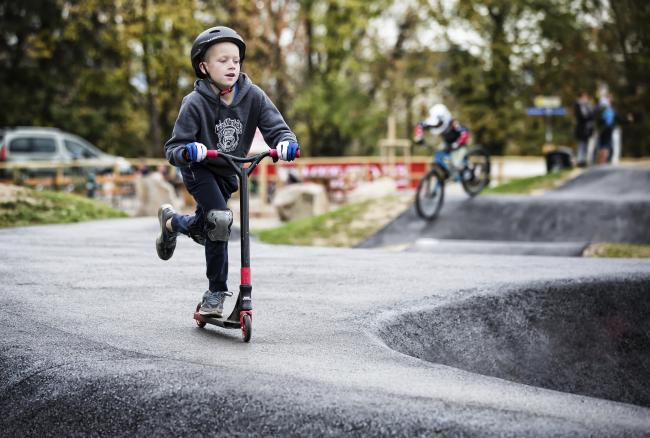 Mayor Joachim Maislinger considers the decision to build the Wals-Siezenheim Pump Track to be the answer to the demands placed on modern municipal sports facilities. "Absolutely everything that has wheels is on the move here. The target group is age-independent and, with bikes, skateboards, scooters and inline skates, it offers much more diversity than conventional municipal sports facilities. Other municipalities are now following this example and investing in the future with a space such as this.
Schneestern will also be attending the FSB (international trade fair for public spaces, sports and leisure facilities) in Cologne. Visit us in hall 7.1 booth 024.