Prize-winning projects in 14 countries
The jury for the 2019 IOC IAKS Award commended seven facilities with Gold, six with Silver and seven with Bronze. The IPC IAKS Distinction for accessible sports facilities goes to five participants. The prize-winning projects can be found in 14 countries worldwide.
This year, 98 projects had been competing from all continents, including ones in Malaysia, Mexico, Namibia, Taiwan and Qatar. Countries ranging from A for Australia to U for USA were all participating. This year's winners span the range of major international sports event venues in Australia and USA, to a universally accessible toboggan slide structure featuring a lookout tower in Canada.
The prizes were handed over by
Michelle

Lemaître
International Olympic Committee, Head of Sustainability, Corporate Development, Brand and Sustainability Department

Patrick Stolpmann




International Paralympic Committee, 

Head of Corporate Development and Technology

Dr Stefan Kannewischer
IAKS President
2019 IOC IAKS Award Gold Winners
Planica Nordic Center, Ratece Planica, Slovenia




Architects: Studio Abiro, STVAR, Studio AKKA

Sportcampus Zuiderpark, Den Haag, Netherlands




Architects: FaulknerBrowns Architects

Riviera Water Park, Brno, Czech Republic




Architects: A77 Architekti, Centroproject Group

UBC Aquatic Centre, Vancouver, Canada




Architects: MJMA, Acton Ostry Architects

Great Plains Recreation Facility, Calgary, Canada




Architects: MJMA, MTa

Rogers Place, Edmonton, Canada




Architects: HOK Architects

GAME Streetmekka Viborg, Viborg, Denmark




Architects: EFFEKT Arkitekter
2019 IOC IAKS Award Silver Winners
Diösgyör Stadium, Miskolc, Hungary




Architects: KÖZTI Architects & Engineers

World Archery Excellence Center, Lausanne, Switzerland




Architects: Tardin & Pittet Architectes

P-Hus & Konditaget Lüders, Copenhagen, Denmark




Architects: JAJA Architects

Videotron Center, Quebec, Canada




Architects: ABCP architecture, GLCRM architects, POPULOUS architects

Oxygen Park, Doha, Qatar




Architects: AECOM

Optus Stadium, Burswood, Australia
Architects: HASSELL, COX Architecture, HKS
2019 IOC IAKS Award Bronze winners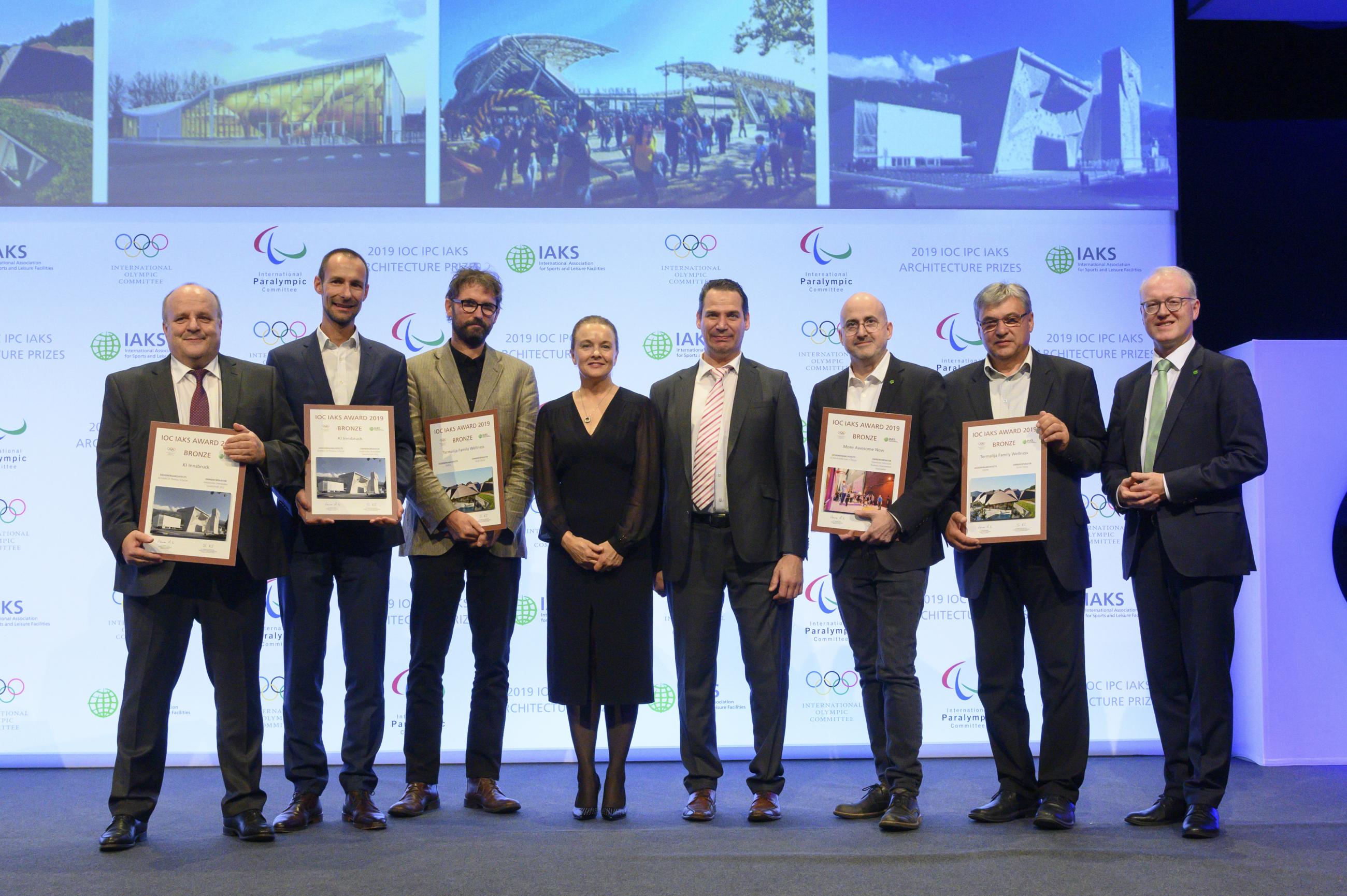 KI Innsbruck, Innsbruck, Austria




Architects: Thomas Schnizer

Termalija Family Wellness, Podcetrtek, Slovenia




Architects: ENOTA

Quai de la Moselle Basketball Arena, Calais, France




Architects: Bureau faceB

Banc of California Stadium, Los Angeles, United States




Architects: Gensler Sports

More Awesome Now, Vancouver, Canada




Architects: HCMA Architecture & Design

Manitoboggan, Winnipeg, Canada




Architects: Public City Architecture

Pulsen, Spøttrup, Denmark




Architects: Elkiær + Ebbeskov arkitekter, LETH & GORI
2019 IPC IAKS Distinction
Optus Stadium, Burswood, Australia
Architects: HASSELL, COX Architecture, HKS

Kärcher Hala Cracovia Sport Center for the Disabled, Cracow, Poland




Architects: Bjuro Projektów Lewicki Latak

The Warner Stand at Lord's Cricket Ground, London, United Kingdom




Architects: POPULOUS architects

Manitoboggan, Winnipeg, Canada




Architects: Public City Architecture

Pulsen, Spøttrup, Denmark




Architects: Elkiær + Ebbeskov arkitekter, LETH & GORI
2019 IOC IPC IAKS Architecture and Design Award for Students and Young Professionals
Gold: Triamentum in Koblenz designed by Miriam Möller-Boldt, Germany
Silver: Experimental Teaching School in Oaxaca designed by Diego Eduardo Hernandez Santa Maria, Estefania Medina Duarte and Paola Andrea Rios Camacho, Mexico
Bronze: Connection Project in Montreal designed by Guillaume Ballart Terral, Switzerland
All winners of the 2019 IOC IPC IAKS architecture prizes are presented in the special edition of sb
Read online