Rescheduled to spring 2022: IAKS Study trip to Vancouver
Due to travel restrictions in relation with the Covid-19 pandemic, the 2021 IAKS Study Trip from 1 to 2 June has been rescheduled to 14-15 June 2022. The application form will be updated within the next days.
The 2022 IAKS Study Trip will provide international delegates with an opportunity to visit one of the largest concentrations of IAKS-recognized projects anywhere. There are a total of twelve projects within 25 kilometers of the conference hotel that have been featured in sb magazine. Seven projects have been rewarded with one of the IOC IPC IAKS Architecture Prizes. The IAKS has selected a final group of eight exceptional facilities as part of the 2022 Study Trip.
The travel package costs (tbc euros) for IAKS members (tbc euros for non-members) and includes:
A two-day tour by coach

Lunches on both days at identified venues on the tour

Evening dinner at Piva Modern Italian Restaurant at Anvil Centre
Individual arrival in New Westminster
Venue hotel: "The Inn at the Quay" (Quay Queens room, including Canadian taxes)
single occupancy: tbc euros/night)

double occupancy: tbc euros/night)
Municipal Partner

Edmonds Community Centre
Edmonds Community Centre is a multi-generational and multi-service recreation centre located in southeast Burnaby. People of all ages enjoy the facility amenities including the leisure pool, laps pool, and fitness area. There is a dedicated youth lounge and seniors' lounge, two gymnasiums, indoor playground, and multi-purpose areas which provide services for all ages. Diversity was central to the planning process, since the neighbourhood includes a large proportion of new Canadians who were unfamiliar with the concept of a community centre. The process engaged these user groups and incorporated their input on needs, requirements, and priorities.
Edmonds Community Centre received the 2015 IPC IAKS Distinction for Accessibility.
Lunch will be provided at Edmonds Community Centre.
Grandview Heights Aquatic Centre
Grandview Height's project vision was to design and build a world-class aquatic centre to attract people from everywhere, while expressing the community's ambition for Surrey as a dynamic metropolis. Inclusivity and universal access help to support a diverse culture. The Aquatic Centre meets FINA standards to host regional, provincial, national and international sporting events in its 10-lane, 50m Olympic size competition pool and dive platform. With seating for up to 900 spectators, it is poised to act as a premier destination for competitive diving and swimming, synchronized swimming, and water polo events. Pro-athlete capabilities are balanced with the needs of recreational users.
The Grandview Heights project received the 2017 IPC IAKS Distinction for Accessibility.
Clayton Community Centre
Clayton Community Centre is designed as a futuristic community centre, combining four aspects of the City of Surrey's community services – recreation, library, arts and parks, in a seamlessly integrated facility. The social fabric of the surrounding context has led to a design that focuses on meeting the needs of youth, while providing key community gathering spaces to support the development of overall community connections. The four key service offerings, recreation, library, arts and parks will work collaboratively in this new centre under a new governance structure facilitated as part of the design process.
Westminster Pier Park
The New Westminster Pier Park presents an opportunity for the community to reclaim its downtown waterfront as park and public spaces. The design embraces New Westminster's rich heritage while addressing key urban design issues, such as connecting this former industrial site to the community, integrating a future civic centre and other development sites, and creating rich active open spaces.
The design for this 3.8 hectare site on the Fraser River incorporates remnant piers, boardwalks and naturalized planting to activate the waterfront and carry the energy and excitement of this open space to Sapperton Landing, New Westminster Quay, and the downtown core.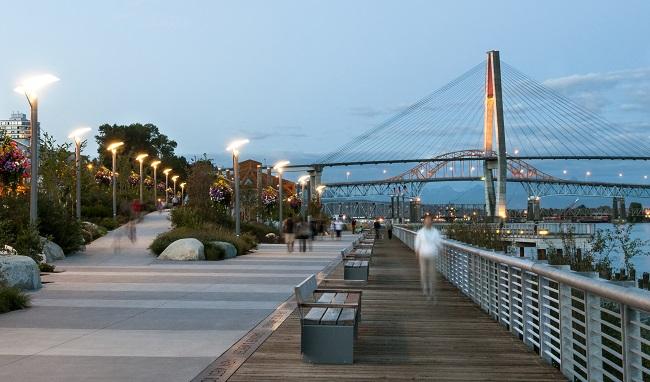 Hillcrest Centre
Located near the geographical centre of Vancouver, Hillcrest Centre carefully balances the needs of both the local community and broader city. The centre was part of a strategy that transformed a series of adjacent public parks through the sensitive consolidation and reorganization of existing facilities. The impetus for this rejuvenation was the siting of the 2010 Vancouver Olympic Curling Venue, which provided four Olympic-size curling sheets and 6,000 spectator seats, and was converted afterwards to the Hillcrest Centre. Careful attention was given to reconcile Olympic requirements with the long-term legacy for this community facility. The facility demonstrates an energetic example of civic design and receives over two million visitors a year.
Hillcrest Centre was a recipient of the 2013 IOC IAKS Award in Bronze.
Delbrook Community Recreation Centre
Delbrook Community Recreation Centre is designed with maximum transparency to create healthy spaces with views to nature. The facility includes a 25-metre x 6 lane pool, leisure pool, racquet sport courts, fitness centre, gymnasium, administrative offices and an outdoor artificial turf field. The design was inspired by the historic logging roots to North Vancouver. The visual forms reference stacked lumber and take advantage of the steeply sloping site while boldly proclaiming itself as a welcoming public amenity. The main public spaces in Delbrook Community Recreation Centre were designed to showcase the wood structure and maximize its visual impact.
Lunch will be provided at the Delbrook Community Recreation Centre. 
University of British Columbia Aquatic Centre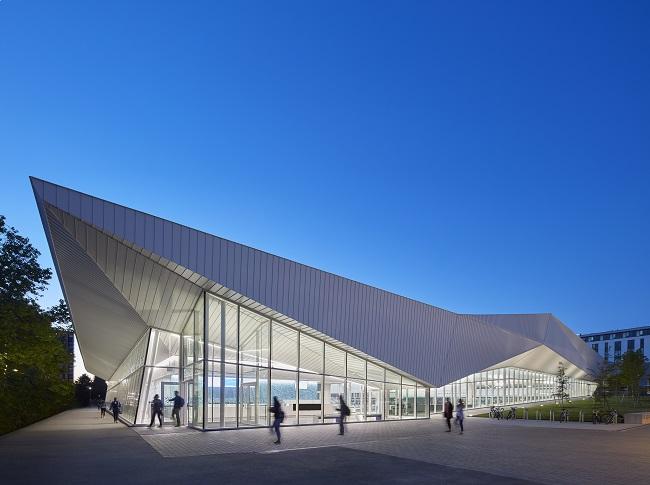 The UBC Aquatic Centre serves athletic training, competition, and neighbourhood leisure needs. The natatorium can accommodate nearly 1,000 bathers, and the viewing area in the mezzanine can host up to 460 spectators. The Aquatic Centre includes a 25-metre recreational pool with diving boards, 50-metre competition pool, leisure pool and lazy river, family friendly accessible hot tub, steam room and sauna, viewing decks and spectator areas, and men's/women's/universal change rooms. The UBC Aquatic Centre was conceived with environmental sustainability central to the final vision for a world-class facility.
The UBC Aquatic Centre is a recipient of the 2019 IOC IAKS Award in Gold.
Richmond Olympic Oval
The signature venue of the 2010 Vancouver Olympic Winter Games, the Richmond Olympic Oval, has been transformed into a multipurpose international centre for sports competitions, recreation, health, wellness, and entertainment. It is also home to Canada's only official Olympic Museum. The Oval welcomes thousands of visitors a month who take advantage of the two international-size ice hockey rinks, 12-m climbing wall, 110-metre x 5 lane sprint track, 200-metre x 5 lane training track, and 2,000 m2 fitness centre.
The Oval has played host to elite competitions including table tennis, basketball, wheelchair rugby, fencing, and taekwondo.
The Richmond Oval is a recipient of the 2011 IOC IAKS Award in Gold. In 2015, it was awarded an IAKS All-Time-Award.
Terms and conditions
The travel package includes:
A two-day tour by coach

Lunches on both days at identified venues on the tour

Evening dinner on

14 June

at Piva Modern Italian Restaurant at Anvil Centre

For travelling guests, accommodation at the Inn at the Quay Hotel with breakfast
Participants
Operators of municipal and private sports and leisure facilities, architects, planners, investors
Registration fee for the Study Trip only – no accommodation
Price for IAKS members: tbc
Price for non-members: tbc
Hotel accommodation including breakfast at the Inn at the Quay
Quay Queens room, single occupancy (including Canadian taxes): tbc/night
Quay Queens room, double occupancy (including Canadian taxes): tbc/night
Guests can inquire about pricing for two bedded rooms if required.
Looking forward to the 2022 IAKS study trip
"The IAKS Study tour is a valuable opportunity to learn and network with colleagues from all over the world.  I had an opportunity to present at the IAKS Congress last November in Cologne and found the global perspective extremely valuable.  I expect the upcoming Study Trip will be equally rich and rewarding."
Elizabeth Ayers
Director of Recreation + Sports Services City of Richmond
"The North Vancouver Recreation & Culture Commission opened the Delbrook Community Recreation Centre in 2017 and it immediately became a busy and beloved hub of community activity.  We are very excited to be included in the IAKS international study tour of exceptional recreation and leisure facilities.  We are looking forward to share our experience on how Delbrook Community Recreation Centre developed from an initial notion of community need to the final physical built form, including all the conversations and steps in between.  It is an honour for us to host the IAKS delegates on this stop of the tour and we hope you will enjoy viewing our facility and listening to our story."
Gary Houg
Manager, Maintenance & Engineering Services North Vancouver Recreation & Culture Commission
"As the oldest city in Western Canada and the Province of British Columbia's first capital city, the City of New Westminster is excited to be the host city for the IAKS Study Trip.  The opening ceremony, with remarks by forward thinking Mayor Jonathan Cote, will be held at the new state of the art Anvil Centre and the multi-award winning Westminster Pier Park and is sure to be one of the highlights of the first day of the tour.  We look forward to welcoming delegates from over 20 countries who will have an opportunity to share unique operational and design perspectives from their communities across the globe."
Dean Gibson
Director of Parks, Culture and Recreation City of New Westminster
"Clayton Community Centre located in Surrey BC the city's first passive house build. The project features a mix of spaces that focus on Arts & Culture, Libraries, Recreation and Parks. An innovative design that has brought together all 4 services delivery areas. Come and see firsthand how staff stayed the course through the journey of design, allocation of spaces, budget, and sharing of staff resources to create more financial efficiencies. All this while not losing site of developing a space where all people feel welcome and engaged."
Kelsey Swanson
Clayton Community Centre
Location
Vancouver, Canada
Inn at the Quay - conference hotel
900 Quayside Drive

V3M 6G1 New Westminster, BC
Canada
hide: No