ASB has been synonymous with innovation, ­multifunctionality, and uncompromising design since 1965. What began as a revo­lution for the sport of squash is now known as ASB GlassFloor - one of the most advanced floorings for sports halls in the world, redefining the boundaries of design and technology. 
ASB LumiFlex is the world's first full LED video sports floor, offering unlimited advertising opportunities, player tracking, and enhanced show design. In comparison, the LED lines on the ASB Multisports are predefined according to the customer's preferences. A playing field for any sport can be switched on via touchscreen.
The ASB GlassFloor is accredited by FIBA, IHF, and FIVB, and comply with the European standard EN 14904:2006 for area-­elastic sports floors. The floor provides perfect joint-friendly conditions for athletes, due to its elasticity and slip resistance.
The materials used - glass, ceramic, and aluminum - are known for their durability and sustainability. The glass floor has a lifespan of 70 years, and the LEDs last for at least 50,000 hours.
FIBA unveils ASB GlassFloor at the FIBA U19 Women's Basketball World Cup

In July, Madrid experienced a world premiere that will change the sports world sustainably. At the FIBA U19 Women's Basket­ball World Cup, the games from the quarter-finals onwards were no longer played on parquet as usual, but on the ASB GlassFloor. In combination with the specially developed application GlassCourt OS, ASB GlassFloor showed a new dimension in the presentation of sports events, as well as for coaching applications.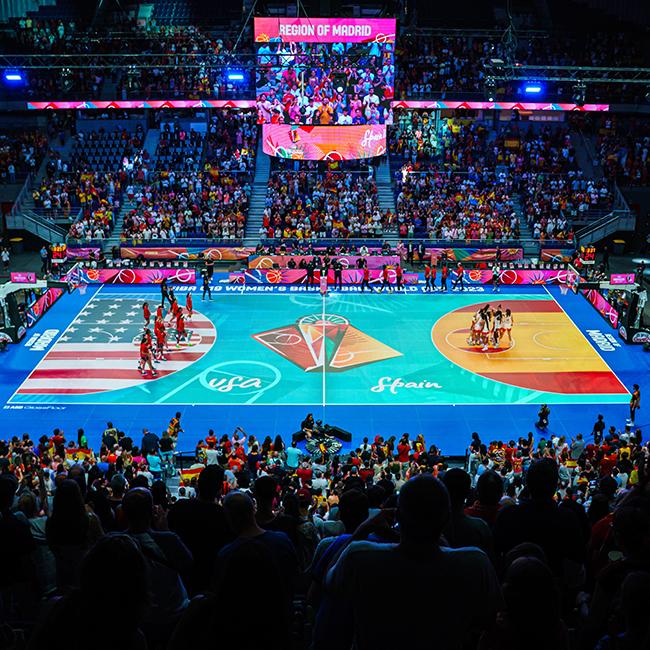 News from Member: